Take a seat! Chorley's popular Book Bench Trail is back as part of annual literary celebration
Book-themed benches are brightening up the town thanks to the artwork of scores of enthusiastic pupils.
Thursday, 15th April 2021, 3:40 pm
Updated
Thursday, 22nd April 2021, 11:47 am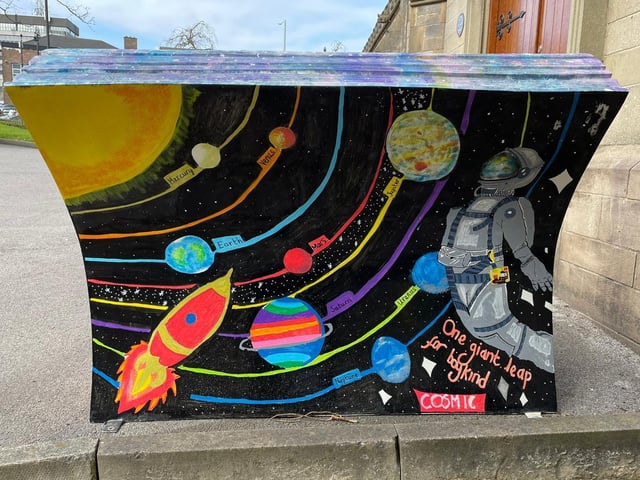 The Cosmic bench created by pupils from St George's CE Primary School
It's part of the build-up to What's Your Story, Chorley? which returns as a virtual event on Saturday April 24.
There will be a whole host of online videos featuring stories, poems and tips for aspiring writers.
But the literary fun has already started with the reappearance of the popular Book Bench Trail.
Chorley St James pupils with student teachers from Edge Hill University Phillipa Jennings and Emily Banks
The designs were inspired by the pupils' best-loved works of literature.
A total of 14 benches have been scattered across Chorley for people to find as they return to the town centre following the relaxing of COVID-19 restrictions.
The message is still to stay safe and follow social distancing guidelines and respect other people on the trail.
The benches have been designed by pupils at the following schools:
The theme Silly Billy created by pupils at Mawdesley St Peter's CE Primary School
Adlington Primary School; Balshaw Lane Community Primary School; Charnock Richard CE Primary School; Coppull Parish CE Primary School; Mawdesley St Peter's CE Primary School; Sacred Heart Catholic Primary School; St Chad's Catholic Primary School; St George's CE Primary School; St Gregory's Catholic Primary School; St James' CE Primary School and St Peter's CE Primary School.
Students from Edge Hill University and staff and volunteers at Adlington Library have also designed benches.
People are encouraged to take part in a fun Book Bench Trail Quiz for a chance to win prizes.
A St Gregory's pupil works on the bench themed around Lila and the Secret of Rain
Each bench will provide one of the answers, as well as having a QR code to scan for more information about the bench, including the inspiration behind it and the school that designed it.
The benches will remain in place until May 9.
Other events taking place as part of this year's 'What's Your Story, Chorley?' festival include a creative writing competition for children and a virtual Q&A with local author Joanne Sefton.
There will also be a book giveaway to mark World Book Night (Friday April 23).
Book Bench Trail leaflets are available from Chorley Library, the covered market or the Ebb and Flow Bookshop, and can also be downloaded at checkoutchorley.com/whatsyourstory