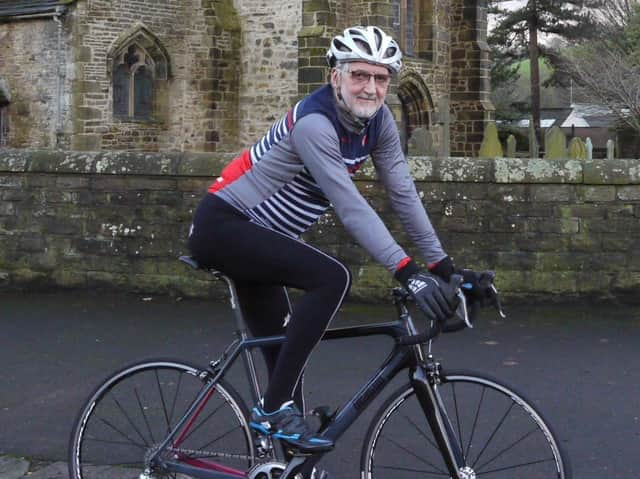 Brain Cookson on his bike
As someone who enjoys venturing out daily on his trusty drop handlebar, Brian Cookson is always ready for whatever challenge comes his way.
Whether it's tackling a particularly steep hill, navigating his way around a tricky bend or opening up his lungs for a burst along the straight and narrow, the Preston-born lifetime cyclist has pretty much seen it all on two wheels.
Indeed, his experiences on a bike perhaps mirror his life off the saddle.
A fine club rider in his younger days, Cookson rose to become one of the sport's great administrators.
As president of British Cycling – a position he held from 1996 to 2012 – the 68-year-old helped turn the UK into one of the superpowers of two-wheel racing in the world.
But arguably his most high-profile moment came in 2013 when he was appointed head of the Union Cycliste Internationale (UCI)– the world's governing body.
With the sport still reeling from the Lance Armstrong affair, Cookson headed up the organisation at a crucial time.
A seven-time winner of the Tour de France – arguably the pinnacle of cycling – in the late 1990s and early 2000s Armstrong was later revealed as a drug cheat.
Without doubt one of cycling's biggest names in its history, his guilty revelations cast a huge shadow on the sport and its integrity.
Suspicions of doping had always hung heavily over cycling, but the Armstrong scandal laid bare the sheer scale of the problem.
With such a cloud hanging over the sport, Cookson was tasked with rebuilding its image and banishing the mistrust which many fans felt.
Despite admitting that the job of heading the UCI was somewhat of a poisoned chalice, Cookson believes his four-year presidency has helped restore some sense of trust and integrity to competition racing.
While he faced an uphill battle when he took over – with many bumps in the road –he insists the sport is back on the straight and narrow and in a much better place.
"Cycling went into a bit of a meltdown internationally," said Cookson.
"We had the Lance Armstrong affair and there was a lot of dissatisfaction at the way that was being handled by the UCI at the time. A number of colleagues at British Cycling asked me to stand in opposition and that's what I did.
"I took over the UCI and did that for four years.
"I like to think I put things back on the right track and cleared up some of the problems.
"I set up systems for impartiality, integrity and proper financial accounting.
"I separated out all the anti-doping processes so that there was no conflict of interest.
"I do think the sport is in a far better place than it was.
"In any human activity, there will always be people who try to cheat, who try to take short cuts to success.
"What you have got to do is try to lower the radar or raise the bar, whichever analogy you want to use.
"Make it so that it is very difficult to avoid getting caught if an athlete is cheating.
"Cycling has probably done that better than any other sport.
"There is the biological passport which carries out long-term testing.
"Not many sports are doing that. In fact, a lot of other sports are still in denial about doping being a problem.
"By and large, together with the World Anti-doping Agency I think cycling has done a good a job as it possibly can do in what is a complex world.
"As I say there will always be people who try to cheat in cycling as in other sports, but I believe cycling is in a good position now and I think it is possible to be successful without having to dope."
Despite making great strides at the head of the UCI, Cookson was voted out after just one term.
While philosophical about his exit, the former Hutton Grammar School would have liked to have continued his work.
"It's fair to say I probably upset a few people along the way and after four years, I didn't get re-elected so now I am just enjoying my retirement and watching from the outside," he said.
"Governing international sport is very challenging and I would have liked to have maybe done another four years.
"The job was a bit of a poisoned chalice.
"It seems like you can't do right for doing wrong.
You're always going to please some people and upset others, particularly if you're trying to put in place changes which affect people's livelihoods, which you are doing in professional sport.
"Politics is a brutal business and sports politics is no less so.
"You have to look forward, but you also have to watch your back too – maybe that was something I wasn't as good at as I might have been.
"I always wanted to govern by consensus because what I think had set the UCI on the wrong track was it was like a one-man show, run like a dictatorship.
"I always wanted to consult and bring people along by consensus and I still think that is the right way of doing things.
"You have always got to bear in mind the politics of these complex situations.
"When you have got a sport as complicated as cycling – you have different stakeholders, teams which are different from the race organisers, which are different from the National Governing Bodies and so forth.
"You have got to try to find ways of balancing all that and that is very difficult thing to do in any sport."
n Next Saturday: Park two of the Brian Cookson story