Blackpool coach shortlisted for national coaching award
A judo and wrestling coach from Blackpool has been shortlisted for the Community Coach of the Year Award by UK Coaching. The nomination acknowledges their outstanding efforts in promoting inclusive sport and physical activity, creating an environment where "everyone is welcome to express themselves".
Watch more of our videos on Shots! 
and live on Freeview channel 276
Visit Shots! now
The UK Coaching Awards is a national celebration event, regarded as the most prestigious within the coaching community and created to celebrate the remarkable contributions coaches make – from delivering high quality and technical coaching, to supporting participants both physically and mentally.
Ross Goodwin has used his role as a coach to build sessions that reach across all communities and welcome all ages, genders, abilities and disabilities to activities, whilst supporting mental health, physical fitness, fulfilment and well-being. Providing judo sessions and sport camps, alongside supporting local clubs in introducing children to judo, boxing, MMA, acrobatics and pro-wrestling, Ross' presence in the local community has seen him recognised as an outstanding coach ahead of the 2023 UK Coaching Awards.
On his nomination, Ross said: "I feel like coaching is such a powerful role, the activities I coach are professional wrestling and judo but that is just the surface. I don't think the children care as much about the activity as they do for the atmosphere that we have and the community that we have built.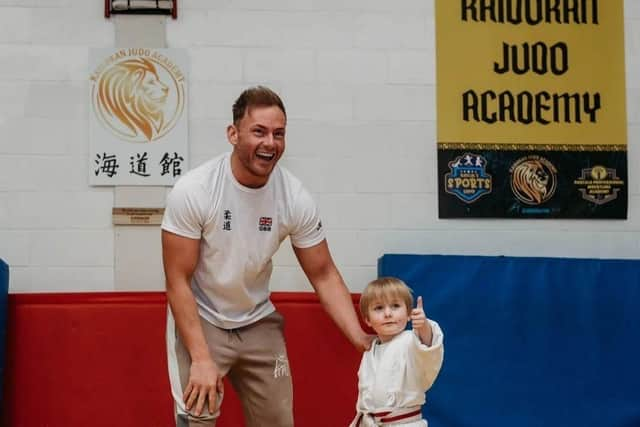 "We are gifting them things that will guide them through life, that will help them to be resilient, to be confident at their pace and step out of their comfort zone to try new things. We create happiness, success, fulfilment, and we welcome any age, gender, ability. We don't have specific disability groups everybody is included under the same umbrella in the same classes.
"I think that is what I pride myself on as a coach, I am just really focused on delivering classes which everyone can get something out of.
"The community that we have built and are seeing on a day-to-day basis is full of love, support, appreciation and I don't want to use this term loosely, but it is becoming a bond and a family, and the children are hanging out with each other outside of the classes and they are best friends.
"Everybody thrives being themselves. One of the children has autism, and he unfortunately probably won't be able to express himself in a classroom as much as he can at the judo academy. He is learning to be himself and enjoy being himself. It is a welcoming environment, there is always things to do for the people watching and I am very blessed to do this and the support we have got is phenomenal."
With previous award winners including Sarina Wiegman, Jane Figueiredo, Judy Murray, and Ben Stokes' coaching chain, the awards celebrate the best of the UK's Coaching workforce, the unforgettable moments they deliver, and the profound impact at every level of sport and physical activity.
UK Coaching's CEO Mark Gannon congratulated Ross on their nomination, and reflected on the huge variety of coaching talent announced:
"We are delighted to announce our finalists for the 2023 UK Coaching Awards. Across the board we have seen so much talent, passion and commitment amongst our amazing coaching workforce, and this year's finalists represent the best of our nation's coaches who do so much to support people through sport and physical activity.
"All of our finalists should be extremely proud of what they have been able to achieve and fully deserve this recognition. We are very much looking forward to celebrating together at our UK Coaching Awards ceremony, bringing together the coaches that are going above and beyond to deliver outstanding experiences and make a real difference in their community."
The awards will be held on 5 December at the Queens Hotel in Leeds.