Here are the best USB microphones if you want to get started as a podcaster, vlogger or blogger
Today's USB mics generally cost less than £150 and yet they're capable of producing exceptional sound that gives any blog, vlog, voice-over or interview a truly professional touch.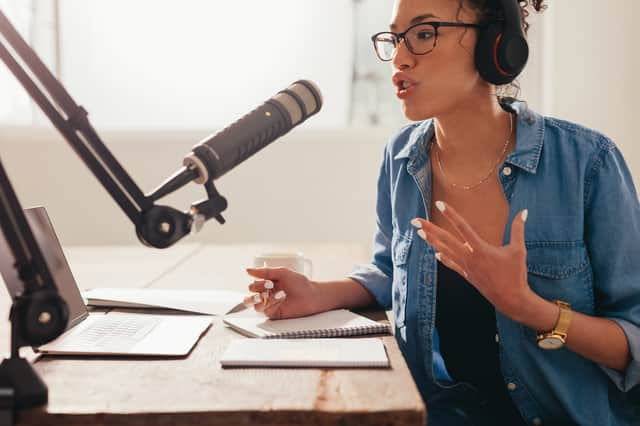 This article contains affiliate links. We may earn a small commission on items purchased through this article, but that does not affect our editorial judgement.
A decent USB microphone is a mandatory requirement if you want to enter the world of podcasting, blogging or vlogging.
Few online industries have taken off quite like blogging, podcasting, and vlogging. For many, it's proved to be a highly lucrative business that doesn't require much to get started.
This is where the latest easy-to-use USB microphones come in. Blogging mics, as they're called, are ideal for podcasts, voice-overs, product reviews on YouTube, game streaming on Twitch, Skype and Zoom calls and live concert streaming.
Also, unlike most pro mics that use an XLR cable and require a special music interface and a full Digital Audio Workstation (DAW) to operate, USB mics simply plug straight into any computer and are compatible with any audio software. The mics even have their own 3.5mm headphone inputs and volume controls for fuss-free audio recording.
Choosing a USB microphone
Modern USB microphones are much more sensitive and therefore a zillion times better than any phone mic, capturing a wide range of vocal frequencies in crisp, pin-drop detail. However, in most cases they also pick up ambient noise.
Hence, the first thing you need to consider is the room you'll be using for your recordings because any of the mics below will easily capture sound from other parts of the house, even someone flushing a loo two rooms away. Another major consideration is whether the computer the mic is attached to has a built in fan. If it does, then chances are there will be a constant whir in the background instead of total silence.
The technical stuff (skip to the products if you're not too techy)
Most of the mics in this roundup come with a variety of polar patterns which dictate what direction of sound source the microphone will be most sensitive to. The cardioid setting picks up sound from in front of the mic, Omnidirectional picks up sound from all directions and Bidirectional picks up sound from opposite ends of the mic.
If it's just your voice you're recording, then stick with the cardioid pattern (the norm on all mics) but if you plan to do a lot of interviews, opt for a mic that also features a bidirectional stereo pattern.
What are the kinds of USB microphones available?
There are two main types of USB mic: condenser and dynamic. Condenser mics have an ultra thin diaphragm that produces a broad frequency range and highly detailed sound quality.
Dynamic mics are much more straightforward, producing a sound that isn't quite as detailed but nonetheless still perfect for blogging.
Dynamic mics are also tougher in construction and less prone to damage in transit, and they don't require an external power supply to make them function. For these reasons, dynamic mics are widely used for stage performance and the recording of loud instruments like guitars and drums.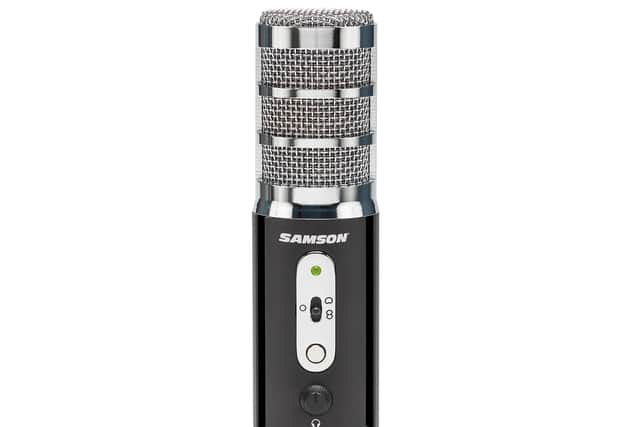 Samson is another brand that's very popular in the blogging community.
This excellent condenser model looks like a rocket on a launch pad when attached to its supplied mini tripod.
The Satellite has three polar patterns – cardioid, omnidirectional and bi-directional – so it's a great choice for blogging, voice-overs as well as interviewing.
Features include the obligatory 3.5mm mini headphone input with volume control, plus a touch-sensitive mute button, a monitor switch for latency-free signals and an indicator lamp to tell you when it's on standby or record.
It also has a built-in shock resistance mount that helps reduce vibrations if accidentally knocked. However, there is no gain control on the mic itself so you'll have to do that on your computer's audio software.
This plug-and-play mic delivers exceptionally clear and naturalistic recordings for a shade over £100. It also works remarkably well when connected to a mobile phone. A top choice, especially if you like a bit of bling on the desktop.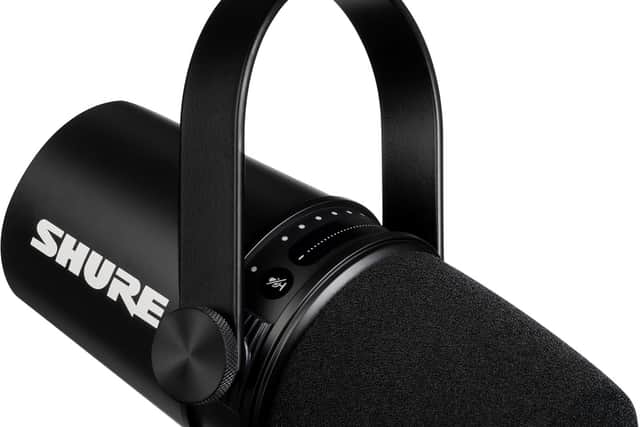 This is the only dynamic mic in this roundup but don't let that put you off because a) it's made by professional industry leader Shure, and b) it sounds fantastic.
This is the mic of choice for many in the professional radio industry – partly because it sounds so good, but also because it's tough enough to withstand knocks and bangs that would most likely harm the delicate internals of a condenser mic.
Onboard features include a mini 3.5mm headphone socket, a mic mute, a button to switch between mic gain and headphone volume, and an excellent sliding capacitor control to increase or decrease recording level. However, be aware that this mic only has one pattern – cardioid – so look elsewhere if you do a lot of one-on-one interviews.
The MV7 comes with both USB and XLR inputs and that gives you the best of both worlds – simplicity and convenience for direct mic-to-computer blogging or high-end recording via an audio interface. You can also use this mic with the ShurePlus MOTIV desktop app to control the tone of your voice and even have it set the recording levels automatically.
This may be the most expensive mic here but it delivers exceptional full-bodied audio that never fails to impress. It is also one of the most reliable blogging mics you could ever have in your armoury.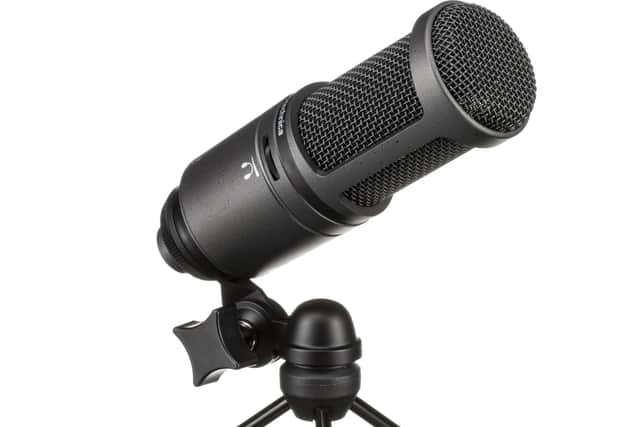 The standard XLR version of this mic (AT2020) is one of the most popular entry-level music recording mics on the market so you can be sure that this USB version will cut the mustard for blogging purposes.
The Audio-Technica AT2020USB+ is of the unidirectional cardioid condenser variety so it's more suitable for single voice recording and not for one-on-one interviewing. That said, its full frequency response also makes it highly suitable for singer songwriters who require a top-quality mic for vocal and instrument recording.
The AT2020USB+'s all metal construction gives it reassuring heft. As is the case with most USB mics, this one comes with a 3.5mm headphone input for latency-free monitoring, a headphone volume wheel and, for multi-track recording, a mix control wheel to blend the microphone signal and pre-recorded audio.
This mic ships with a micro tripod, a robust connector to keep it steady on a desktop and a decently long 3-metre cable (handy for those with a noisy computer). The whole lot tucks away into a faux leather zip bag for easy transport.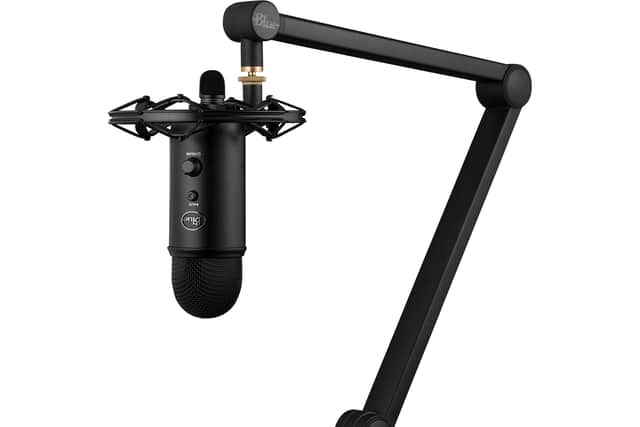 Blue, a subsidiary of computer accessory giant Logitech, is one of the main market leaders in USB microphones and the Yeti is its most popular model.
We've specifically chosen the Yeticaster bundle for this review because it comes with a sturdy desktop-mounted boom stand with shock mount to reduce any vibrations and knocks.
This means it can be swung into action whenever you need it. You can easily buy the mic separately, but it's much more cost effective going for the full blogging package.
The Yeti is a condenser mic with four polar patterns – cardioid, bidirectional, omnidirectional and stereo. It comes with a zero-latency headphone output and controls for microphone input gain, headphone volume, pattern selection and instant mute.
The Yeti uses tri-capsule technology to produce crisp, studio-quality sound that punches way above its weight. In short, this is the complete package for all your blogging, vlogging, streaming and interviewing needs.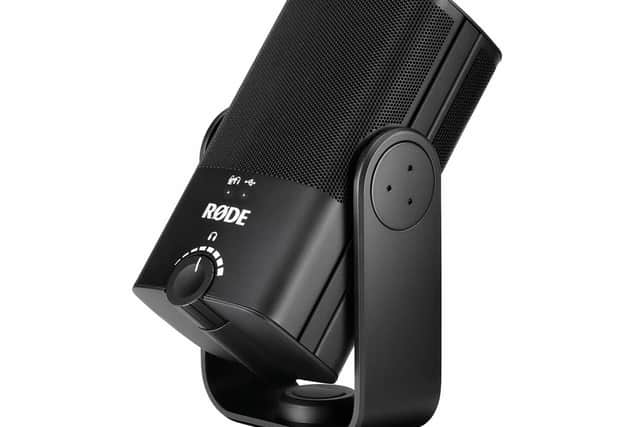 Rode is a massive player in both the professional and home recording market and a leader in the production of video camera mics.
Only 14cm in height and just 5.4cm wide, the NT-USB Mini is a great choice for small spaces and a perfect travel size for field recording with a laptop or tablet.
The NT-USB Mini costs less than £90 but you wouldn't know it listening to the results, which are crystal clear, and with a deep and warm radio-like bottom end when used up-close with the input gain reduced a little. For a condenser mic at this low price, it is a truly remarkable performer.
Unlike some of its rivals, this mic only comes with a cardioid pattern so it is designed specifically for a single voice and not for interviews – unless you're both sitting an inch apart.
The mic itself is equipped with a 3.5mm headphone input, a volume control and a pop filter for reducing pops, or plosives as they're more commonly known. It also comes with a magnetic detachable desktop stand.
Since it is ostensibly designed for the speaking voice and single track recording, the NT-USB Mini doesn't come with a mix dial between monitoring and the playback of any previous recorded tracks.
But that's not an issue if you're just recording your own voice on a single track.
If you want a no-nonsense high-quality mic that doesn't cost the earth, this one passes a great deal of muster.