Gaza: Preston councillor wants Sir Keir Starmer replaced by 'someone with compassion'
A long-serving Lancashire county councillor has called on Sir Keir Starmer to resign over the stance the Labour Party has taken on the war in Gaza – accusing him of countenancing the killing of "innocent civilians".
Watch more of our videos on Shots! 
and live on Freeview channel 276
Visit Shots! now
Yousuf Motala, who has represented the Preston City division at County Hall for almost 15 years, issued a statement telling the Labour leader that he should step aside to make way for someone "who can show compassion" and put the case for an immediate ceasefire in the conflict.
In his statement, County Cllr Motala asked of Sir Keir: "How can anybody with any decency and respect for human life continue to ignore the cries and screams of thousands of unborn babies, newborn babies, children, expectant mothers, [the] elderly and the dying?"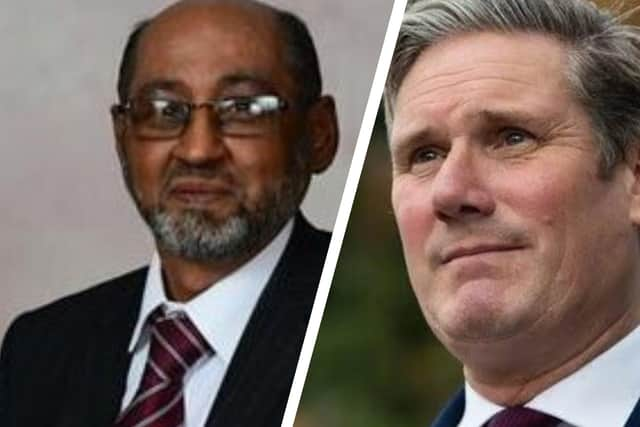 He said that it is "beyond my comprehension" – and declared that the party under Sir Keir's leadership had "lost [its] core values and ethos" by "allow[ing] Israel to exterminate innocent civilians [through] full-scale revenge attacks on the Gaza Strip and in the West Bank".
Speaking to the Lancashire Post about his resignation demand, County Cllr Motala said he had been witnessing the pictures emerging from Gaza with increasing horror, adding that "enough is enough".
According to the Gazan health ministry – run by Hamas, the UK-proscribed terror organisation that controls the Gaza Strip – over 9,500 Palestinians have been killed in Israel's response to the Hamas attack on its territory, on 7th October, in which more than 1,300 Israelis died and over 200 were kidnapped.
Stressing his previous condemnation of the Hamas rampage, County Cllr Motala said: "Children are dying for no good reason – hospitals and refugee camps are being targeted and people are being starved. For me, I think that we're talking about war crimes.
"You've got to have some empathy…[and] feeling – and if you don't [have that] for human life, then you think to yourself, what is all this about? [Labour should] at least ask for a ceasefire that is immediate – and forget about these [aid] corridors and temporary breaks [in fighting]."
So far, Sir Keir has supported the UK government's push for a pause in the military action in order to allow more aid into the densely packed Strip. However, he is facing an increasing clamour from within his own party to go much further.
Sobia Malik, the Lancashire county councillor who represents Burnley Central East, became the first Labour member of County Hall to quit the party late last week.
Asked by the Post whether he would consider following her out of the door, County Cllr Motala – who once chaired the North West regional committee on international development – said that he was "seriously considering" his position.
"As county councillors, we have a duty of care and a responsibility for safeguarding our residents. But we can't…just accept that we look after [our own residents] and forget everybody else in the world."