Gaza: Preston Labour councillors call for ceasefire, as Jewish community leader condemns banners in city march
Preston City Council's Labour members have called on the national party and the UK government to back growing calls for a ceasefire in Gaza.
Watch more of our videos on Shots! 
and live on Freeview channel 276
Visit Shots! now
In a statement signed by all 31 Labour councillors on the ruling group at the town hall, they describe the UK's decision to abstain on a ceasefire vote at the United Nations last week as "wrong" – and declare that the Labour leadership should press for an end to hostilities and "push for the immediate restoration of food, water, electricity, medical care and communications to Gaza".
However, a leading member of Preston's Jewish community says that a ceasefire in Israel's military campaign in Gaza would merely give Hamas the means to repeat the kind of massacre that the group committed in its attack on Israeli citizens on 7th October, in which more than 1,300 were killed.
Jeremy Dable, who is the Jewish representative on the Preston faith covenant, told the Lancashire Post that Israel had allowed chances to deal with Hamas – a proscribed terrorist organisation in the UK – to pass by, meaning that there was now no alternative to the use of force.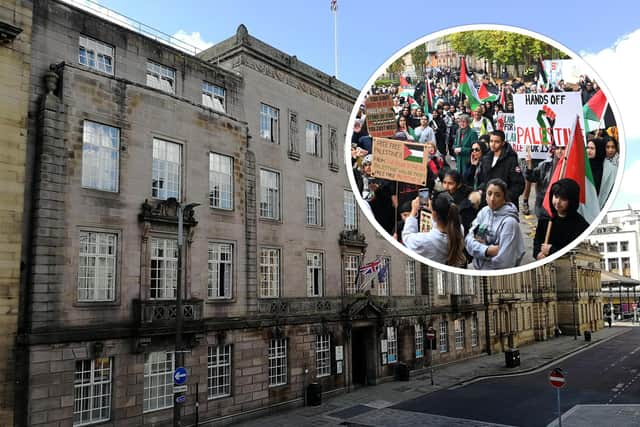 While condemning "unreservedly" the "appalling" attack by Hamas on Israeli soil, Preston's Labour councillors add that they are "deeply concerned about the loss of thousands of innocent lives in Gaza, including nearly 3,000 children, the displacement of many families and the deep suffering blockading essential goods and services is causing".
On Sunday, the Hamas-controlled Gazan health ministry said that the Palestinian death toll in the tiny, densely-populated territory had now surpassed 8,000.
The councillors say that they want to see an end to what they describe as "indiscriminate bombing by the Israeli government", adding that, as elected representatives, they have a "right and duty" to condemn the military operation in Gaza – a territory in which 47 per cent of residents are children, according to the United Nations' children's agency UNICEF.
Meanwhile, Jeremy Dable also says that a phrase that appeared on at least two banners at the more than 3,000-strong Preston for Palestine march through the city centre on Sunday – "From the river to the sea, Palestine will be free" – amounted to a call to wipe Israel from the map.
"I seriously question whether [the rallies] are doing anything at all to help the people in Gaza.
"The organisers seem, generally, to be trying to restrain the more extreme elements – and I do recognise that. But even so, we're still getting calls for the annihilation of Jews.
"There's no way at all that 'From the river to the sea…' will be interpreted by any Jew in any way other than to call for total annihilation [of Israel]," Jeremy explained.
He dismissed the suggestion that it was not possible to eradicate an ideology by military means – citing Nazism in Germany as one example – but did criticise Israel's "wrongheaded" governments over the past 14 years for "missed opportunities" to head off the current crisis.
"But now all of Israel should join with anybody else who is interested in the welfare of Arabs, Palestinians, Gazans and people in the West Bank to get rid of Hamas and put the Palestinian Authority [the government of the West Bank] in charge, while resuming talks for a lasting peace," Jeremy said.
"Hamas just has to go. So we have got to get medical supplies in and refugees out, including the foreign nationals that are being prevented by Hamas from leaving. But Hamas has to go if there's going to be any peace in the Middle East.
"Calling for a ceasefire now is, in effect, a call to allow Hamas to rest and rearm – and do it all again," he warned.
The Preston councillors' statement comes after the leader of Lancashire County Council's Labour opposition group became one of almost 40 of the party's elected representatives in Lancashire to sign a letter to party leader Sir Keir Starmer calling for a shift in his stance over the war in Gaza – and asking him to lead calls for an immediate ceasefire.
Separately, 250 Muslim Labour councillors nationwide have written to him making the same request, with one of the signatories being the long-serving Preston City division representative on Lancashire County Council, Yousuf Motala.