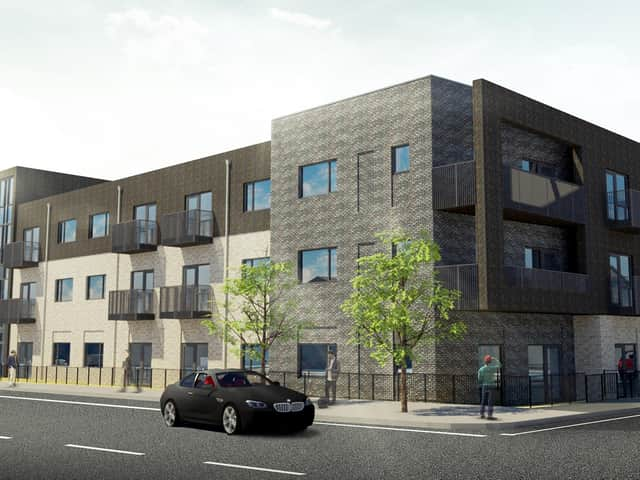 An artist's impression of the new building on the corner of Eaves Lane and Lytham Street
The vacant Eaves Lane site will be transformed into 62 new apartments with a range of community facilities under the proposals.
Linked to the nearby Tatton Recreation Ground on Silverdale Road, the plans include a community centre, café and hair salon, a GP surgery and pharmacy.
They will also result in the regeneration of the recreation ground with the construction of bowling club facility following the demolition of a nursery, community centre and bowling club hut.
An artist's impression of the redevelopment of Tatton rec
The scheme is one of two major developments in Chorley that have secured almost £8m of government cash as part of plans designed to help kickstart the economy in the wake of the coronavirus crisis.
The money – from the Getting Building Fund – will also support the office and industrial units for new and expanding businesses at the existing Strawberry Fields site.
Chorley Council, which has put in the planning application, agreed to purchase the bus depot several years ago as part of its plans to improve the town centre.
It has been vacant since Stagecoach relocated its Chorley operation,
The depot was historically used for bus storage, repairing and cleaning for many years.
Ward councillor Hasina Khan said: "I weclome the development, it's long overdue and a facility the residents of Chorley definitely deserve.
"The health centre is going to be there and I'm sure it's going to be open to a wider area as well."
She said in her time on the council - 14 years - "it's a dream come true."
Another ward councillor Terry Brown said it was "positive" news.
He said: "I welcome the proposals. It's a massive increase in funding by the council which will vastly improve the area and give a multi-purpose facility for all members of the community.
"It's been very difficult with Covid and the nature of the development."
He added that it also included a crossing on Eaves Lane to help with road safety issues.
And he said it would provide a cleaner environment than when the bus depot was in operation.
Councillor Alistair Bradley, Leader of Chorley Council: "The Tatton area is well overdue some investment and our plans for redevelopment will bring a huge number of benefits and a real focal point for the community for years to come.
"We've carried out consultations with residents on the proposals and have developed plans based on this feedback which have now been submitted for planning consent – residents can make comments on the plans on our website.
"The plans include redevelopment of the old bus depot to become assisted living accommodation, GP surgery and pharmacy, improving healthcare facilities in the area, which are currently unfit for purpose. It will also include a community café and community centre (for residents to use and a children's nursery), along with a small area for parking and garden for nursery children.
"We know that residents have concerns about this part of the development encroaching onto some of the recreation land to the rear, however it's important that we find a balance between retaining this land and also providing adequate infrastructure to support this type of development.
"The plans show a very small increase (approx. 3%) of the recreation land that is to be built on compared to what is there now and this is primarily parking that will look to resolve problems that have been experienced in the past in this area.
"We are also looking to make the parking areas green by utilising modern grassed parking solutions for overflow areas and to maintain the local amenity.
"The recreation area will also see significant redevelopment to include a range of new features to suit all ages, including play equipment, multi-use games area, new bowling hut to accompany the current bowling green and an events space which can be used for community events.
"We're aware that residents may have to wait some time for this, so this week we are installing a small amount of play equipment on the recreation ground as an interim solution for residents who have told us they need equipment for older children. This equipment will then be integrated into the revamped play area when the time comes.
"We are really looking forward to making these plans a reality, they'll have a positive impact on the local area (subject to planning consent)."