Who is Sarah Davies - Preston's weightlifting gold medallist? Here's everything we know about the former beauty queen
Preston's Sarah Davies has won a Commonwealth Games gold medal for England in Birmingham.
Tuesday, 2nd August 2022, 12:03 pm
Updated
Tuesday, 2nd August 2022, 12:12 pm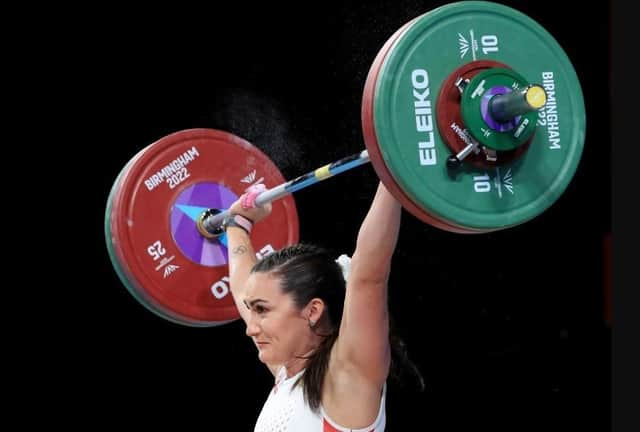 Preston's Sarah Davies competes at the Commonwealth Games in Birmingham before going on to win gold in the 71kg clean and jerk category
Davies triumphed in the women's 71kg final after winning silver medals at the European and World Championships, as well as the 2018 Commonwealth Games in Australia.
Here's everything we know about the Preston champ ...
How old is Sarah
How tall is Sarah?
What weight is Sarah?
Sarah (centre) with her gold medal alongside Alexis Ashworth (left), who won silver, and India Harjinder, who won bronze
She is just over 10 stones (64kg)
When did Sarah win her gold medal?
How did Sarah win gold?
Sarah lifted 126kg in the clean and jerk to relegate Canada's Alexis Ashworth and India's Harjinder Kaur to the minor medals
How long has Sarah been weightlifting?
Sarah has been weightlifting since September 2011
Did Sarah win any titles as a beauty queen?
Sarah is a former Miss Leeds and Miss Intercontinental England (2018/19)
What has Sarah said following her victory?
Sarah said: "There have been a lot of second places, but the tables have turned now and taking silver is finally over. The lion in me came out to fight on the second one. I wasn't leaving it down to the third attempt."
Is Sarah on Twitter?
Yes, her username is @sarahdavies1908
Is Sarah on Instagram?
Yes, follow her @sarahd_gb
Does Sarah have a YouTube channel?
Yes, search for Sarah Davies – The Barbell Queen