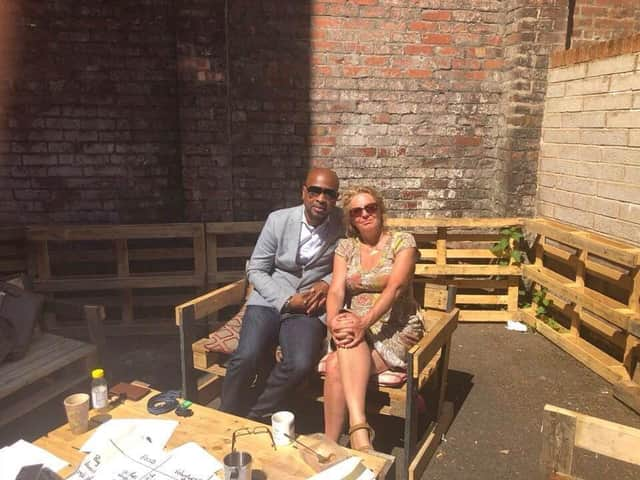 Adrian Murrell and Kay Johnson, co-founders of the Preston Roots project
Preston Roots will share stories and recipes online about what particular dishes mean to local residents from diverse backgrounds.
The creators of the project hope that by demonstrating recipes on video and talking about the memories and sense of identity a dish evokes it will spread understanding of different cultures and experiences.
It will also extend viewers' cooking repertoire and perhaps encourage them to try new dishes.
Kay Johnson founder of social enterprise Preston's The Larder, said the project owed its origins to the cancellation this year of two popular annual city events because of the Coronavirus epidemic.
She said: "I normally do a Feast for Peace event each year. This would have been the fifth year of Feast for Peace. Adrian Murrell of Preston based Windrush Initiatives normally has a Windrush Festival in June. Obviously we're not having them this year. Adrian and I had been talking about how we celebrate the cultural diversity of Preston and one answer has been to bring people together. We've come up with a programme called Preston Roots - we're going to be asking people living in Preston whose heritage is from other parts of the world to talk to us and tell us a positive story about their heritage through a dish. It's cooking a dish and telling the story. We're going to do it on Zoom and the films will go on The Larder's YouTube site. People will get an online recipe but also a sense of that person's culture and country."
She added that it cold be that somebody's parents had shared a particular memory of place through a special dish.
Kay added: "It will be an ongoing thing where we will be showing these videos. I think we'll just keep politics out of it. This is a positive project where we're celebrating the cultural diversity of Preston. One of the reasons we're doing it is it's a kind of gentle approach. It's about bringing down barriers through food and using food as a means to be able to bring people together. We've already got people interested in sharing their stories and recipes.We're going to do a whole series of 10 minute chats with them sharing their cooking."
Adrian said: "I think we're going to try and show unity in Preston in a very small way of course. We're going to get people from five different islands in the Caribbean - Dominica, Barbados, Jamaica, Trinidad and Montserrat. They are cooking dishes from these islands. We'll talk to them about what it was like in the Caribbean while doing it. "
He stressed that some of those who arrived in the Windrush generation still live in Preston The first arrived in the UK when the Windrush ship docked in England on June 22, 1948. He said: "Even though there's people who came over from the Caribbean 72 years ago, there's still a lot of people don't know much about them."
The Preston Roots project launched with a film featuring Lady Milena Grenfell-Baines, who came to England in 1939 as a Jewish refugee from Czechslovakia. Lady Milena, who first came to Preston in 1945, demonstrated how to cook a special potato soup, Bramboracka. The short film also marked Refugee Week 2020.
* The Windrush festival was established in 2013 in the city and each year the festival includes music and dancing and a cricket match featuring Windrush Warriors against the Proud Preston team.
* Feast for Peace, a one day event on the city's flag market, owes its origins to the Brexit debate and vote. Kay said: " That was (established) in response to the fact that people felt there was a kind of division in the communities in Preston so I wanted to try to find a way we could bring people together through food and music and celebrate the cultural diversity of Preston."
She recalled that at past events there had been singing and music and food from India, Thailand, Poland, South America and Syria :"People from different communities in Preston, we invited to just come and cook. Anyone could come along and try all the different foods being made. It was all done by donation.".
See thelarderlancsblog.wordpress.com for Lady Milena's recipe and film.