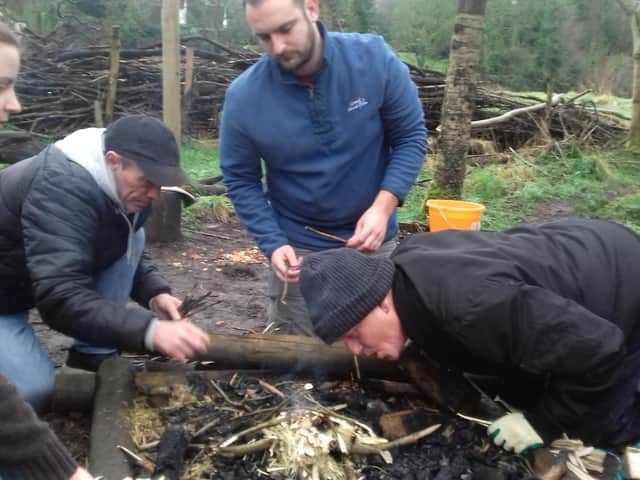 Myplace participants learning about bushcraft
Empowering people to connect with their local environment, learn new practical and social skills, and improve their physical health and mental well-being, Myplace was started in 2016 and is delivered by the Wildlife Trust for Lancashire, Manchester, and North Merseyside in partnership with the Lancashire and South Cumbria NHS Foundation Trust.
Through a focus on their five core themes of ecotherapy which reduce stress and anxiety - connect, be active, take notice, learn, and give - the project runs a number of sessions each week which, during the pandemic, have been tweaked to ensure the benefits can still be enjoyed by one and all.
"We're a team of people who like to work outside - that's the whole point of our job - so working through lockdown was bizarre," says the Myplace Senior Project Officer Jenny Reddell. "Everyone in the trust was asked to work from home and so we had to adapt because we're a crucial well-being service across the North West."
Myplace participants toasting marshmallows
Prior to the latest lockdown, the charity held in-person sessions in small groups at Covid-secure locations as well as online sessions, which offer those unable to get out and about the chance to meet regularly with a small group of like-minded peers; and Myplace @ Home, which sees a member of the Myplace team call participants weekly for a catch-up and offer those who are shielding chances to engage with nature.
"The project was set up to help people improve their well-being through nature and our core purpose has remained the same," explains Jenny, who started working on the project in 2017.
"Things like Myplace @ Home help get people involved in nature through things like making a bird-feeder or doing some planting, with the idea being that this will enable people to feel ready to join in an online or outdoor session eventually.
"Quickly establishing a positive way for people to stay connected to nature was really valuable and so we encouraged people to get out for their daily exercise somewhere green and natural," adds Jenny, 43, who lives in Lancaster. "We got a lot of good feedback because, for a lot of people, this was their only connection to the outside world during the week.
Myplace participants in Preston
"Plus, the online service has allowed us to work further afield - we're getting people from Liverpool, Cumbria, Lancaster, South Preston. You could see how much value it had for people, so that was really positive."
Myplace, which has a team of 12 people, is funded by The National Lottery Community Fund and the European Social Fund. So far, it's worked with over 1,400 people, with 95% of those involved saying they feel the benefits of taking part after just six weeks.
"You see a massive difference in people who get involved and those who come regularly really get an awful lot out of it; it's not just about personal well-being, but about personal development as well," says Jenny. "We want to help people move into something else once they're finished with us, be it working with Lancashire Adult Learning or volunteering with a local environmental group."
Praising the 'amazing' team and 'brilliant' volunteers, many of whom are former participants, Jenny says: "It's brilliant to be involved; it's the best job ever. During lockdown, it was hard to be inside and it was frustrating, but you just had to keep reminding yourself that it was worth it because the people you were working with were getting something out of it.
"I think lockdown will have made people realise the importance of engaging with nature and their own well-being, so hopefully we've been able to make a difference" she adds. "The end game is for people to get outside and feel confident in embracing the natural world."