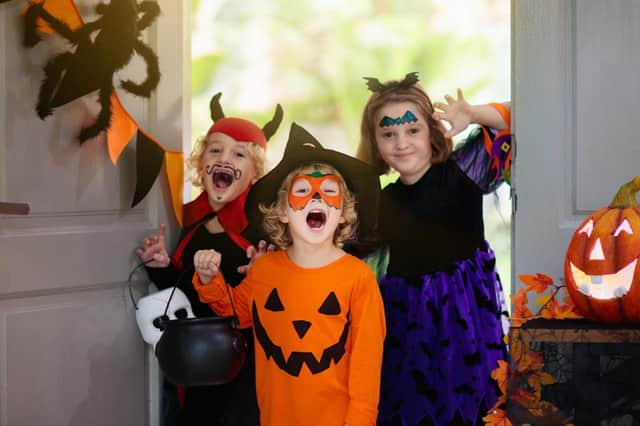 Can children go trick or treating this year? (Photo: Shutterstock)
As the Covid-19 pandemic continues, England has implemented a three tier lockdown system.
Lancashire has been placed into Tier 3, otherwise known as the 'very high' Covid-19 alert level - but what does this mean for Halloween?
Are children still able to dress up and visit their neighbours in the Halloween tradition of trick or treating? This is everything you need to know.
Can kids go trick or treating?
Those placed in the Tier 3, or 'very high', Covid-19 alert level will not be able to celebrate Halloween as usual with the likes of trick or treating, as that would be considered mixing with people outside of your household, which is not permitted under Tier 3 restrictions.
Lancashire County Council tweeted, "Please avoid door to door trick or treating this #Halloween. Lancashire is in the very high Covid alert level. Don't mix with others outside your household or support bubble."
Instead, the council recommends decorating your home, carving a pumpkin or watching a scary movie.
A statement from Lancashire Police said, "As we approach Halloween, we want everyone to enjoy themselves - it's obviously hugely popular with children and families and something to look forward to is what we all need right now.
"We must do it safely though and, in particular, that means people will need to find alternative celebrations to traditional trick or treating as we know it.
"Lancashire is in Tier 3 regulations and the law is that people can't socialise with anyone who isn't in their household or social bubble - this applies anywhere indoors and in private outdoor spaces including yards and gardens."
Will the police be monitoring trick or treaters?
In its statement, the police explained that the force would be "out and very visible in the run up to Halloween and on the night itself, making sure people are safe and helping them stick to the rules."
The police's approach will be the same as in previous years - if people are behaving antisocially, then they will be dealt with accordingly.
The approach to enforcing Covid-19 rules will also be the same.
"We will continue to take a common sense and proportionate approach, speaking to people, helping them and only enforcing the rules where we are faced with unacceptable behaviour or we have exhausted all our other options," said police.
For those caught breaking Covid-19 rules and regulations, it is possible that you could be issued a fine.
You can be fined £200 for your first offence, which then doubles for further offences up to a maximum of £6,400.
If you hold, or are involved in holding, an illegal gathering of over 30 people, the police can issue fines of £10,000.
A Downing Street spokesperson said that parents could face fines for breaking the rules.
What else does Tier 3 ban?
Tier 3, also known as the 'very high' Covid-19 alert level, is implemented in areas with extreme levels of infection which therefore require tighter restrictions.
The government has introduced a baseline of lockdown measures for these areas, however local authorities are able to implement further requirements where necessary.
The government baseline measures are:
- You cannot socialise with anyone you don't live with, or have formed a support bubble with, in any indoor setting or in any private garden or at most outdoor hospitality venues and ticketed events
- You must not socialise in a group of more than six in an outdoor public space such as a park or bench, the countryside, a public garden or a sports venue
- Pubs and bars must close; they can only remain open where they operate as if they were a restaurant, which means serving substantial meals, like a main lunchtime or evening meal, and they may only serve alcohol as part of such a meal
- Schools, colleges and universities will remain open
- Places and worship remain open, but household mixing is not permitted
- Weddings and funerals can go ahead with restrictions on the number of attendees; however, wedding receptions are not permitted
- Exercise classes and organised sport can continue to take place outdoors - these will only be allowed indoors if it is possible for people to avoid mixing with people they don't live with or have a support bubble with; there are exceptions for supervised activities for under-18s, and disability sport
- You should try to avoid travelling outside the very high alert level area you are in, or entering a very high alert level, other than for things like work, education or youth services, to meet caring responsibilities or if you were travelling through as part of a longer journey
- You should avoid staying overnight in another part of the UK if you were a resident in a very high alert level area, or avoid staying overnight in a very high alert level area if you are a resident elsewhere