Brother hit labourer three times in head with an axe in Freckleton
Local historian Keith Johnson looks back at a grizzly attack on a labourer in yesteryear.
Thursday, 18th March 2021, 10:43 am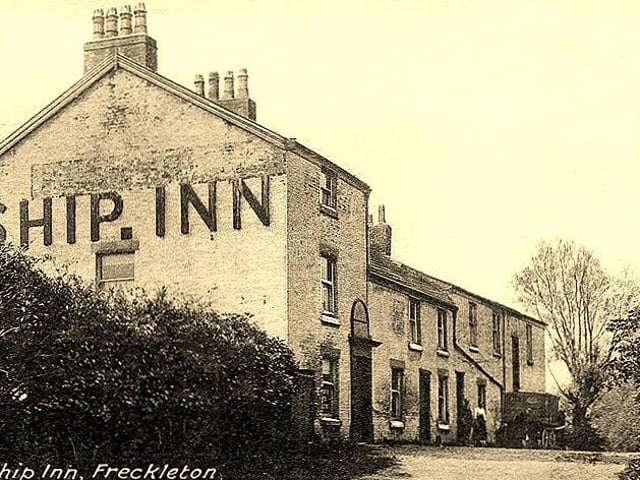 Blundell had been drinking at the Ship Inn Freckleton
In 1865 a number of labourers were employed by the Ribble Navigation Company in the forming of an embankment in the estuary of the river Ribble at Freckleton.
Amongst them were a strongly built fellow, named Thomas Blundell, and two Irishmen, named Thomas and John Coughlan. Blundell, who lodged in Freckleton, had often been in trouble whilst living there, but he had always managed to talk his way out of it before having to face the magistrates.
However, on the second Monday of April 1865, after drinking at the Ship Inn and Coach & Horses, he went to the place where the Coughlan's were lodging. After being greeted by them he was asked to pay for some beer, but refused to do so. A quarrel ensued and he was turned out of the house. Whilst outside someone dealt him a blow on the face, and as he was about to retaliate Thomas Coughlan pushed him aside.
Blundell then struck Coughlan several times on the face and a full bloodied fight took place with John Coughlan joining in. After a struggle lasting several minutes, all three fell over a low hedge into a garden. Christina Cookson, who lived close by, seized Thomas Coughlan, and succeeded in pulling him away. He, however, seeing his brother still fighting with Blundell, ran into his lodgings and returned almost immediately with an axe in his hand.
The woman begged him to leave the pair of fighters alone and grabbed hold of him, but he wrestled free, leaving her holding his waistcoat. He then jumped over the hedge, rushed upon Blundell, who was in a kneeling position upon John Coughlan, and struck him three violent blows with the axe, inflicting very dangerous wounds on the back and front of his head.
Blundell fell instantly, and was carried into a nearby house where he was attended by Dr. Shaw of Kirkham who was visiting Freckleton. His skull had been fractured and laid bare. Both the Coughlans ran to their lodgings immediately after the occurrence, and locked themselves in for some time, but subsequently they made off to Preston across the marshes.
Police Sergeant Douglas the officer stationed at Kirkham along with constables from Preston went in search of the pair, visiting a number of public houses in the town centre. After being informed the Coughlans had been seen on Friargate Brow in the Crown & Thistle they eventually discovered Thomas Coughlan in a lodging house in Sedgwick Street and in a drunken state he was taken to the Earl Street police station.
On the Tuesday morning he was given into the custody of P.S. Douglas who conveyed him to Kirkham where he faced the magistrates on the Thursday morning. It was stated that Thomas Coughlan, aged 22, had up to the present time borne a good character and that Blundell was in a state of recovery. After much deliberation he was remanded in custody to await his trial at the Preston Sessions of mid-May 1865.
Coughlan was charged with a malicious and unlawful wounding and pleaded not guilty. Blundell who had recovered from his ordeal, after being in a critical condition for a week, admitted that all those involved were the worse for liquor and he insisted the row was not of his making. Christina Cookson described in detail the drunken incident and she was praised by the prosecution for her intervention.
In Coughlan's defence Mr. Kay argued that it had been nothing more than an Irish row that had got out of hand due to drink. He urged the jury to recognise there was nothing malicious about the assault.
The jury after a lengthy consultation returned with a verdict of guilty of unlawful wounding whilst in drink. The chairman Mr. Hulton then informed Coughlan that he was sentenced to 12 months imprisonment.