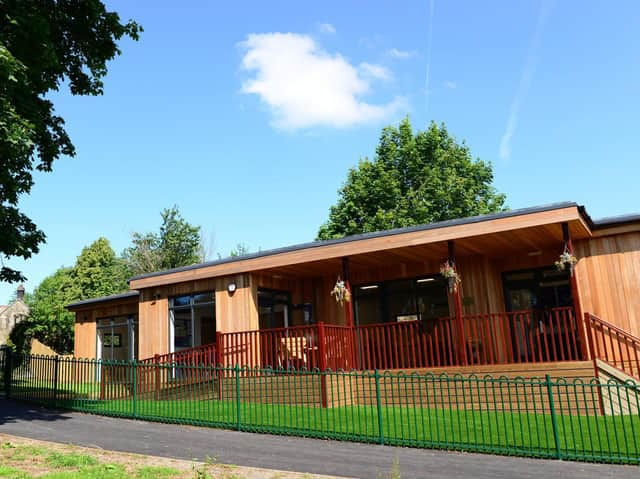 One of the remodelled classrooms at Crookey Hall School
Three specialist outdoor classrooms have been remodelled at Crookhey Hall School to provide extra facilities for pupils with special needs.
Called Woodlands, the setting has been developed in response to growing demand to fill a gap for individualised learning to meet the needs of pupils with high functioning autism or multiple learning difficulties (MLD).
The school, near Lancaster, caters for children aged 10-17 who can't cope in mainstream school due to social, emotional and mental health difficulties (SEMH).
Crookhey Hall School headteacher Samantha Lea with the school's therapy dog
Crookhey Hall - part of Acorn Education and Care and Outcomes First Group - gets referrals from local authorities all over the area, including Blackpool, Cumbria, Fleetwood, Preston, Leyland, Wigan, and Lancaster.
The new timber-clad outdoor classrooms are nestled among the trees on the school's 15-acre site with their own play area and have been created to provide a peaceful and calm environment to reduce anxiety and help build self-esteem among pupils.
Inside, the rooms have been purposely kitted out to promote the calm sensory environment many pupils with autism or MLD need, from low ceilings and soundproofing to reduce echoes to tinted windows and sensory equipment.
Headteacher Samantha Lea said: "School refusal' can be triggered by a range of underlying issues, including anxiety, lack of family support, depression, SEN, social problems, transitions, parental illness and poor mental health.
" At Crookhey Hall School we pride ourselves on helping young people to re-engage in the life and the routines of school by creating personalised learning programmes to enable them to thrive and lead productive, purposeful lives.
"We are thrilled to be able to share our nurturing learning environment with even more pupils who are highly capable of achieving but do not have the emotional resilience to cope in a mainstream setting.
We help them to flourish and grow as individuals by giving them the time, therapeutic support and understanding they need to grow in self-esteem, self-control, direction and motivation."
Pupils are taught in small groups by specialist staff and facilities on site include a large horticulture area, hair and beauty salon, construction workshop, and catering department.
The school also has it's own resident animals - free range chickens, budgerigars, a peacock, snake, gecko and therapy dog.