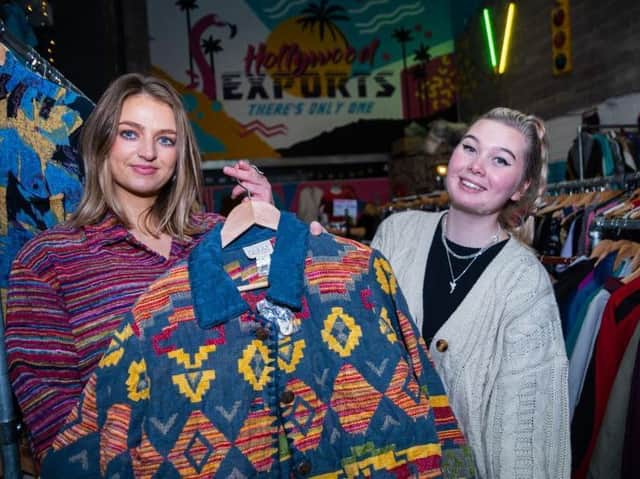 Kay Pickles (left) owner of Hollywood Exports with employee Abby Clemson
We have been encouraging you to support local since the beginning of the first lockdown, when many small, independent traders spoke of their worries about how the Covid-19 pandemic would affect their trade.
And as the second national lockdown came to an end on December 2, traders were allowed to once again open their doors to the high street shoppers.
Bharat, owner of Jewtha Menswear on Lune Street
But in the run-up to Christmas, independent business owners are still apprehensive about trading through such difficult and uncertain times and face a new challenge.
Small business Saturday is a country-wide campaign in its eighth year in the UK - and last year, an estimated £800m was spent in small businesses across the country, with a record turnout of 17.6 million people choosing to shop small on the day.
Bharat Jethwa, owner of Mr Jethwa Menswear in Lune Street, said he was pleased to be reopening and had extended his hours to make up for lost trading during the lockdown.
He said: "We usually open 10-4, but I will open 9-7 or 8 if we have to. We want people to know we're still here and we're trading.
Hollywood exports primarily relies on students and young shoppers
"We have a website, but people still want to come and see an item, feel it.
"My concern is that this year there are no Christmas parties and no holidays for people to go on, so people will not need a new shirt, shoes or suit."
He added: "We are smiling a little because we run it (the business) tight, there's just me and my brother and we own the property.
"If we had three staff and had to pay rent, then it would be very different.
Brian Beck, owner of European Fine Arts and Antiques Limited on Cannon Street
"I'm very worried for the high street. Everything depends on this jab. If people can go on holiday or to a party, then they will want to buy new clothes.
"At the moment, if my wife says she wants new curtains, I would say 'no, we can wait', but then the curtain people don't get any business, and then they won't want to spend money elsewhere. It all has a knock-on effect.
"Then what happens with Brexit? That's something else."
Matthew Taylor and Kay Pickles own Hollywood Exports - a vintage clothing store on Fox Street in Preston.
Essentials Lingerie, on Lune Street has been owned by Yvonne Dillon for 25 years
Matthew said that they rely on younger customers and students supporting their store, selling up to 30 times more in store than on their online Depop page.
He said: "Mainly, 80 per cent of our customers are college and university students. As soon as the lockdown was lifted, if they have travelled back home and not studying it will mean we really will be treading water.
"In the run-up to Christmas, we need people coming into the store and supporting us. Through both lockdowns, we managed to bring in sales online, but the clothing sizes vary so much that the items need to be seen and tried on in person to be appreciated.
"We have vintage clothes that are different sizes from 30 years ago and our customers need to see how American clothes fit differently. It has been tough trading through these times, and we are encouraging people to come out and buy something different and unique.
"You wouldn't walk into a big high street store and get what we offer. The high streets need to be full of independent stores like us and eateries, there is no place for these big brands where generic items can be bought online. Boutique and specialist stores are the ones who need support."
But the big brands that we all associate with our high street are also feeling the blow from the pandemic - as it was announced on December 2 that 12,000 jobs were at risk as department chain Debenhams announced their liquidation.
Small Business Saturday UK is thinking big to ensure high street tills jingle all the way throughout the festive period. The removal of lockdown restrictions after December 2 means that Small Business Saturday tomorrow will be the first of three Saturdays to champion local shops and within our communities.
Both the Federation of Small Businesses and British Independent Retailers Association continue to encourage customers to "stay local, shop local", with £3.7 billion expected to be splurged on small business buys this year.
Brian Beck, owner of European Fine Arts and Antiques Limited on Cannon Street said: "It tells you something when the big businesses are going from our high street too. We do not sell online because of the nature of our business and want people to continue coming out to support us.
"The art we sell needs to be inspected and seen in person. If you look at a painting online, you don't know what restoration work it has had. Shopping life first started out with small corner shops and independent businesses and unfortunately, we find ourselves in very difficult times. I encourage people to come out and help small businesses who are struggling."
And Yvonne Dillon, owner of Essentials lingerie store on Lune Street has last month celebrated 25 years of trading.
She claims that she has survived 25 years and would 'not be beaten' by the pandemic.
She said: "Small business owners like me want people to come out and support the town centre as much as they can. The high street has changed dramatically through the pandemic and independent businesses need to survive.
"We are geared up and ready. It has been very up and down but I am a very positive person and don't dwell on it. I have got straight back into my work and have a lot of loyal customers who are continuing to shop with me and support me.
"It has been difficult and very different, my shoppers are having to wear their masks and we need to be using hand sanitiser. I know some people are still frightened to come out, and in the run-up to Christmas, we need people to come out and support us.
"I am not alone on Lune Street, we all offer personal customer service which is the advantage of shopping small. Customers are just happy to see our doors have reopened again. I never expected I would be celebrating my 25th year in a lockdown, but I have survived for 25 years and won't be beaten by the pandemic."