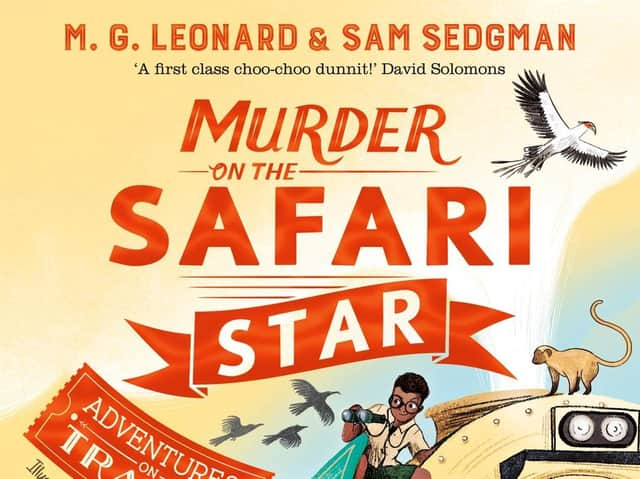 Murder on the Safari Star
Murder on the Safari Star (Adventures on Trains)
M.G. Leonard, Sam Sedgman and Elisa Paganelli
Agatha Christie meets Indiana Jones as schoolboy Harrison Beck climbs aboard the Safari Star for a thrill ride across the vast landscape of Southern Africa.
Murder on the Safari Star is the third book in Adventures on Trains, the all-round entertaining middle-grade series from mystery-writing duo M.G. Leonard, prize-winning author of the Battle of the Beetles trilogy, and Sam Sedgman, a writer and lifelong train enthusiast, with Elisa Paganelli's vibrant black and white illustrations providing the extra bells and whistles.
In this new all-action adventure, we join budding young artist Harrison (Hal) Beck and his travel writer Uncle Nat on the journey of a lifetime aboard the Safari Star… a luxurious steam train that will take them from Pretoria to the stunning Victoria Falls.
Close encounters with the amazing animals and terrain of Africa are adventure enough, but things get mysterious when a passenger is found dead inside a locked compartment. It appears evil media magnate and trophy hunter Mervyn Crosby died as he tried to shoot a rhino from the window of the train, and that it was just a terrible accident.
But Hal and Nat are not convinced and, with the help of Hal's new friend Winston and his tame mongoose, they must unravel the truth and find out whether there is something far more suspicious taking place on the train…
This witty, clever and suspense-packed series is certainly on the fast track to success. With a cast of sparkling characters, a train-load of fascinating facts, adventure at every junction, and a baffling mystery to solve, Leonard and Sedgman are pulling out all the stops as they take youngsters on one of the wildest and most wonderful reading journeys of the year.
Enjoy red herrings, puzzles, suspects, lots of fascinating clues to solve and Paganelli's fantastic gallery of illustrations as the whistle blows for the adventure of a lifetime!
(Macmillan, paperback, £6.99)
BOOT: The Creaky Creatures
Shane Hegarty and Ben Mantle
Since he went 'all mechanical,' Darkmouth series author Shane Hegarty has found as much fun and laughter with robots as he did with human-eating monsters!
The Creaky Creatures is the third, hilarious, warm-hearted story about Boot, a small robot which constantly finds itself on big adventures. With fantastic, eye-catching illustrations throughout by the award-winning Ben Mantle, Boot's madcap mechanical world springs to vivid, anarchic life.
Toy robot Boot has come a long way since it woke up in a scrapyard with only two-and-a-half glitchy memories. It has a home with its robot pals in an abandoned amusement arcade, and has discovered what true happiness is, although it's still not sure why humans have glued furry caterpillars over their eyes.
When Boot catches sight of a robot pet it used to know – Mr Piggles – our hero and pals follow it to a beautiful green square in the city of skyscrapers. Here they find not just real nature, but also a haven for broken and rejected pets.
They also meet the children who look after the pets, and for whom this green space is a sanctuary too. But Boot is distracted by strange emotions that swing from happy to sad ... maybe Boot is broken? Can it work out what is wrong, with the help of its friends?
Illustrated throughout in atmospheric black and white shades by Mantle, this is a fast-paced, action-packed tale of resilience and hope for our riotous little robot, and comes packed with fun, friendship… and a large number of malfunctioning robot pets!
(Hodder Children's Books, paperback, £6.99)
Bunny vs Monkey and the Human Invasion
Hold on to your hats and watch out for trouble… Bunny and Monkey are back in a brand new remastered book collecting together the comedy and chaos of their helter-skelter world!
Featuring Bunny vs Monkey 3: The Stench and Bunny vs Monkey 4: The Wobbles for the first time, this smaller easy-to-read, chunky format features 247 pages of fast and furry-ous exuberant fun.
The Phoenix Presents series, published by David Fickling Books in partnership with The Phoenix comic, is going from strength to strength and much of that success is due to the genius of the extraordinarily talented illustrator Jamie Smart whose hilarious comic-strip Bunny vs Monkey books are causing giant laughter waves.
And once more, we are welcomed to the woods where chaos reigns supreme! Bunny and his friends Weenie the Squirrel, Pig (the pig), Action Beaver and Skunky the Inventor lived a peaceful life in the forest…until Monkey's rocket crash-landed and he decided to take over. Since then, Monkey has been causing absolute mayhem. Now Bunny and the gang have almost had enough. In this rollicking comic extravaganza, the pint-sized friends must tackle a helliphant, rocket-powered hot air balloons, and the most mind-boggling creatures of all… hew-mans.
Outrageously comical and ingeniously addictive, these manic, high-energy stories were just made for fidgety readers who like their books to come with plenty of comic-strip pictures and loads of laughs.
Madcap antics for a new generation of action kids!
(David Fickling Books, paperback, £8.99)
The Fabulous Cakes of Zinnia Jakes: The Tumbling Tortoises
Brenda Gurr and Nancy Leschnikoff
Who likes cakes? If you want to get your teeth into a tasty adventure, then meet the incomparable Zinnia Jakes, the nine-year-old girl who doubles as a secret pastry chef.
Zinnia Jakes and her fabulous cakes take starring roles in a fabulous foodie series from author Brenda Gurr, who spent her early childhood on a dairy farm in Western Australia, and illustrator Nancy Leschnikoff.
These perfectly baked books feature delicious heroine Zoe Jones, alias Zinnia Jakes, who secretly makes the tastiest and most wonderful cakes. Together with her magical cat, Coco, her best friend Addie and her aunty Jam, they get into incredible adventures.
Zinnia Jakes has won the Wildside Zoo's endangered animals competition with her cute tortoise cupcake idea. But when she does more research about tortoises, one of her classmates starts asking too many questions. Can Zinnia Jakes remain the secret pastry chef everyone loves?
With a mouthwatering recipe for chocolate swirl cupcakes to try at home, a mystery to solve, and lots of fun to enjoy, this quirky adventure is ideal for confident young readers who are eager to get a slice of the action!
(New Frontier Publishing, paperback, £5.99)
Francesca Simon and Steve May
Imagine living in a world where your parents WANT you to be bad?
If that sounds like a recipe for fun, well it is! For any mischievous child who wants to give anarchy a go, author Francesca Simon and illustrator Steve May's vile Viking twin terrors are guaranteed to leave hapless readers doubled up with sniggers and giggles.
Set in the snowy fjords of a Viking kingdom, this new series features two manic misbehaving stars… the truly terrible twins, Hack and Whack. This diabolic double act are actually adored by their proud parents for causing havoc, and love being the very best worst Vikings in the village.
Nothing stops the marauding pair as they steal boats, loot a birthday party, track a troll, and sail off to raid Bad Island with their friends Twisty Pants and Dirty Ulf. Well, almost nothing stops them…
Simon – best known for her universally popular Horrid Henry series – employs the best of her trademark whip-smart dialogue and wit, while May's Dennis the Menace style of anarchic cartoon imagery is perfectly pitched for younger readers.
Sharp, laugh-out-loud funny, and wickedly clever, the Two Terrible Vikings are set to give Horrid Henry a run for his money!
(Faber & Faber, paperback, £6.99)
Alan MacDonald and Elissa Elwick
A motley crew of pirates are left holding the baby in a super seafaring tale of mayhem, madness – and nappies!
Nappy the Pirate Baby is the latest super-readable Little Gem from innovative publisher Barrington Stoke… and it comes from the top team of Alan MacDonald, the much-loved and bestselling author of the Dirty Bertie series, and talented illustrator Elissa Elwick.
Stinky McFlea, Irish Stew, Long Johns, Nitty Nora and Captain Spratt are pirates aboard the Salty Herring. They love nothing more than lazing about on deck and sailing the high seas…until one day, a strange wailing noise changes everything.
There's a stowaway baby on board the ship, and the crew have decided to raise him like a proper pirate. But are they really up to the task of looking after a baby? And where exactly did Nappy come from?
The Little Gems series brings together leading authors and illustrators, and a host of clever design and finishing techniques like dyslexia-friendly fonts, to create easy-to-read, first chapter books in a chunky format ideal for little hands, and with some extra reading, jokes and activity fun inside the covers.
And this hearty and heartwarming new story of family and friendship – brimming with MacDonald's whimsical wit and Elwick's vivid and colourful illustrations – delivers swashbuckling giggles and guffaws on every page.
Don't miss the fun-filled voyage!
(Barrington Stoke, paperback, £6.99)
Georgiana Deutsch and Cally Johnson-Isaacs
Join a fox in search of a night time adventure in a beautiful picture book which celebrates the joy of finding friends.
Author Georgiana Deutsch and illustrator Cally Johnson-Isaacs have foxy fun with this playful and cleverly cautionary tale set against the fading light of a forest filled with a host of familiar creatures.
Bramble the fox thinks it's just the right sort of night for adventure… there's a silvery moon and lots of sparkly stars. Bramble races off in search of fireflies and finds Hazel the hedgehog on the way. But things get scary when she sees her reflection in the lake and thinks it's another fox. It makes Bramble very grumpy because the rude fox made her jump. It's up to wise owl Twig to teach Bramble the important lesson that 'what we give out is what we get back.'
With Deutsch's subtle, reassuring messages about anger management and the rules of friendship, and Johnson-Isaacs' soft-toned, atmospheric illustrations, this is the ideal book for little ones learning the ways of the world.
(Little Tiger Press, paperback, £6.99)
Lauren Crisp and Thomas Elliott
Peep through the flaps and learn about the exciting world of dinosaurs in this bright and bold new board book in Little Tiger's I Can Learn series.
The series lets youngsters explore colours, shapes, counting and many other first concepts through special features such as tactile elements, sound buttons, and flaps, reinforcing learning and strengthening hand-eye co-ordination.
In this new addition, children will love exploring the book's hand-on pages, full of peek-through holes, flaps, and surprises, while learning fascinating facts about dinosaurs in their many shapes and sizes.
Learning is fun when you make your own discoveries!
(Little Tiger Press, board book, £6.99)
How Many Beads?: Measure, count and compare
You can always count on Little Tiger Press to come up with a hands-on winner!
The inventive How Many Beads? is part of Little Tiger's educational and entertaining My World series, inspired by the Montessori education system which focuses on practical, hands-on learning that engages imaginative young minds and helps children to reach their full potential.
And this beautifully produced and illustrated interactive book of measuring, counting and comparing allows little ones to explore scale in real-world settings and develop mathematical skills through play.
Using a string of colourful, interactive beads to help youngsters with counting and measuring, they can discover the tallest thing in town, find the smallest thing in a box of treasures, count all the conkers in the forest, and see how a shark measures up to a seahorse!
So watch little eyes light up as they explore six different scenes, solve the puzzles, spot lots of objects in the illustrations, and learn to count by using the beads.
The fun of learning on every page!
(Little Tiger Press, board book, £12.99)
Day and Night (Switch-a-Picture)
Harriet Evans and Lirios Bou
Watch the world change from day to night with this innovative and educational board book which features enchanting changing pictures.
The forest is filled with cheeps and howls… during the day there are bluebirds but at night, the wolves and owls appear. In the savannah, the cheetah hunts in the sunshine but at night, beware because the hyena appears!
Simply pull the tabs to reveal the different creatures that delight in day and night. From the wonderful rainforest to the sweltering desert and the marshy wetlands, there is plenty to discover with the magically dissolving windows in this bright and colourful board book.
The thrills of the animal world in light and shade!
(Little Tiger Press, board book, £8.99)
Little Explorers: Goodnight Farm
Becky Davies and Carmen Saldaña
Watch your little ones' eyes start to close as the farm animals settle down for their night-time slumbers.
Sleepy babies and toddlers can't help but pick up on the gentle rhythms of this gorgeous board book in Little Tiger Press's enchanting Little Explorers series which combines facts, fun and a beautiful verse with cut-out, peep-through pages… perfect to share at bedtime wind-down.
Explore the farm and its different creatures as you peek through the pages to watch sleepy animals settle down for the night. Say goodnight to the cows in the pasture, the hens in their houses, the horse in the stable, and the sheep huddled together to keep warm.
Little ones will love learning facts about each animal as they tiptoe into barns, creep across fields, look up into the treetops and peep into the stables.
Produced in a chunky format, this beautiful book has extra facts on every page about animals and their sleeping habits, and ends with a twinkling, foiled page which will delight little readers.
An interactive lullaby of soothing words and pictures…
(Little Tiger Press, board book, £7.99)
Share giggles with your little ones as they discover who said Cheep and who said Miaow!
There is so much to enjoy in this clever, beautifully illustrated board book, full of animal sound guessing games and touchy-feely magic, as illustrator Yi-Hsuan Wu has fun with a cast of adorable characters.
Who said Baa… was it a bunny, and did the little deer say Quack? Pre-schoolers will love solving the mystery as they lift the peep-through flaps and touch the pages to find out which noise matches which animal.
With funny pairings, touchy-feely pages, intriguing flaps to lift, and a surprise mirror ending to put little readers in focus, this gorgeous book will be a hands-on hit with inquisitive babies and toddlers!
(Little Tiger Press, board book, £6.99)