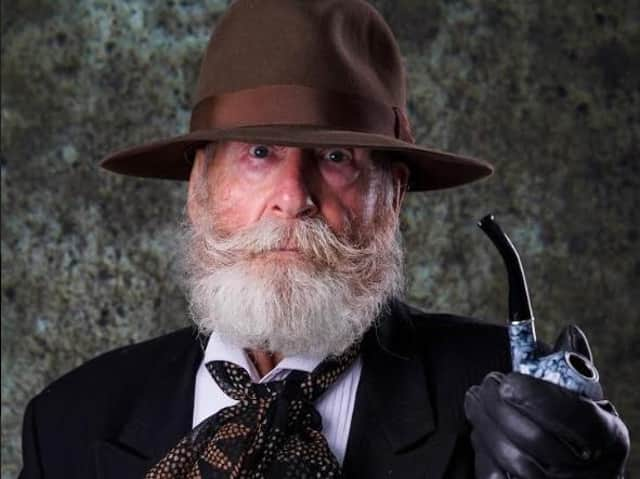 Harry strikes another pose as a character model.
The ex-boxer and rock and roll singer is hitting new heights as a male model thanks to an impromptu Peaky Blinders photoshoot.
Preston lad Harry's craggy looks are suddenly in big demand by snappers across the country.
And after he appeared on TV striking a few poses for the cameras, he attracted more than 30,000 views on Facebook.
The Peaky Blinders photoshoot where it all began.
"It's been amazing," laughed Harry, who is now gunning for work in films.
"I thought I was good-looking when I was 20, but no-one wanted to take my photo back then. Now I'm 80 and look like an old crab they can't get enough."
Former joiner Harry, who lives in Fulwood, has spent years on the other side of the lens as an amateur photographer. But it all changed at one Preston Photographic Society session when they were a model short.
"It was a Peaky Blinders shoot," he said. "My mate Brian Sandham suggested I jump in to fill the gap. He told me to get a cap on and a long coat and pick up a Tommy gun. And that's how it all started.
All action Harry in Peaky Blinders costume.
"Since then I've done all sorts of characters - a Viking, a cowboy, Einstein and a scary Halloween model. I've got a wardrobe full of outfits I've picked up from charity shops. I've got 36 different hats.
"I love it, I can't get enough of it. What else am I supposed to do, sit in my flat with my slippers on watching TV? I'm full of beans and loving life.
"I've been an extra a couple of times and I was booked to do a film in Liverpool in the middle of March called Vengeance, but it was called off due to the lockdown.
"That's what I really like to do, get into films. I'd enjoy that."