Ryan Lowe's plan for Preston North End starlet previously linked with Man Utd & Liverpool
The youngster - who was linked with Manchester United and Liverpool last year - has signed a professional contract with PNE until 2026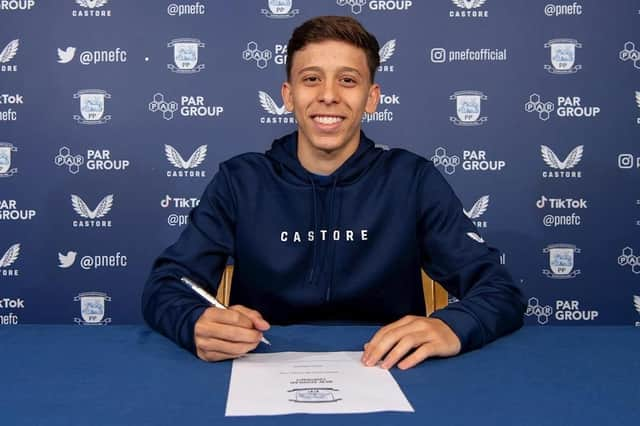 Preston North End manager Ryan Lowe felt it was crucial to tie Felipe Rodriguez-Gentile down to a long-term contract at Deepdale.
It's been quite the year for the young forward, who is training regularly with the first team at Euxton despite only being a first-year scholar. Rodriguez-Gentile burst on to the scene last December when he scored five goals in the FA Youth Cup.
He went on to feature heavily in pre-season with the senior side, then earned a first call-up to the Argentina Under-17 squad. More good news came Rodriguez-Gentile's way last week, with him penning a professional contract until 2026 with Preston. Lowe was keen to get that deal done.
"Yeah we were," said Lowe. "We'd been speaking to him a little while and his agent and mum and dad wanted to know where his future lied - and what the plan was for him. But, I think the plan dictates itself with Felipe, in the fact that he's probably been up here since last season - when he was fantastic in the FA Youth Cup. He hasn't looked back or been sent back, if that makes sense. There will be times when he goes and trains with the kids, of course. But, now we've tied him down to a long term contract he becomes an asset for us. And again, he's got a bright future."
There is plenty of hype around Rodriguez-Gentile, given his eye-catching finishes and recent international exploits. After his five goals against Rotherham United, links to Manchester United and Liverpool even emerged. But, with him only 17, Lowe know the buzz needs to be managed.
"We have, yeah," said Lowe. "And that's why I play it down a bit, sometimes. But we know the quality he has got and I think there are a lot of teams out there who'd be looking at Felipe and saying 'can he do a job for us?'. That's Premier League teams obviously, in their youth systems or 21s or whatever. But look, he is our player and we want to keep him - of course we do. But we've also got to find a way of where and how he fits in.
"He's just got to keep learning on a daily basis, because he's a quality player - and that's why we've tied him down. At some point, he will make his debut of course. That has got to be at the right time and that all depends on him. Again, he's just got to knuckle down now. The easy part is getting here and getting the contract; the hardest part is sustaining it and working hard to get to where he wants to get to."
Rodriguez-Gentile is an exciting, attacking prospect who will naturally grow and develop - as a person and player - with age. Lowe's vision for the youngster, who was recruited at U15 level, is a versatile forward player.
"I think he will be a false nine, really," said Lowe. "Dropping into little pockets. We had a little laugh and joke about where he played last Tuesday (for the reserves). He couldn't quite grasp it, but anywhere across the front three is probably where he'll apply his trade eventually. And he's got to be prepared for that, so it was a good learning curve for him: knowing where he needs to be and what he needs to do. But, he's got some fantastic talent, yeah."