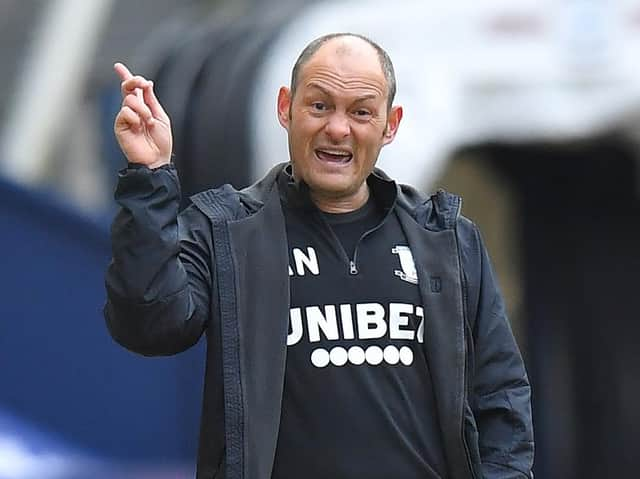 Alex Neil
Left-back Hughes was on the team-sheet and went out to warm-up ahead of the clash at Deepdale.
However, pain from a shoulder injury he sustained in last Wednesday night's win at Birmingham, forced him to drop out of the reckoning.
Hughes had a pain-killing injection beforehand but even that couldn't deaden the pain.
With Josh Earl also ruled out with an ankle injury, Neil turned to Joe Rafferty to play at left-back.
Rafferty did give away the late penalty which Lucas Joao missed, but North End boss Neil felt he had otherwise coped quite well.
Explaining the position with Hughes, Neil said: "Five minutes from the end of the Birmingham game, Hughesy got flung into the boards.
"He badly bruised his shoulder and there are a number of nerves which run that area of the body.
"We had it jabbed hoping he would be okay but unfortunately the pain was too much.
"I thought Joe gave a really solid performance apart from the penalty. He dealt with Sone Aluko very well, he was aggressive and they didn't get any change out of him."
Neil had alerted Rafferty to be the possibility he might be needed if Hughes didn't make it.
But it was hoped having the injection would see him get through the game.
"I had a conversation with Joe to make him aware that he would be playing if Hughesy wasn't able to," said Neil.
"When we were training on Saturday, we had two left-backs available in Hughesy and Josh.
"Yet in the end we had to put Joe in there. Josh's ankle wasn't feeling quite right.
"To be fair to Joe, he came in and was professional, he was ready and focused."
North End never really looked liked winning the game, the clearer chances falling to Reading.
The best of those came in the 82nd minute when Joao was pulled to the ground by Rafferty, Joao putting the penalty wide.
Neil said: "The platform for the game was always going to be to keep their front three quiet. I thought we did that.
"That's five clean sheets in the last seven league games which is pleasing.
"Attacking wise, we didn't carry as much as a threat as I would have liked.
"To be fair to Reading, they recognised how good Emil Riis could be and their two centre-backs dropped early to deny him the space to play in.
"That meant we had to get runners from the middle of the pitch."