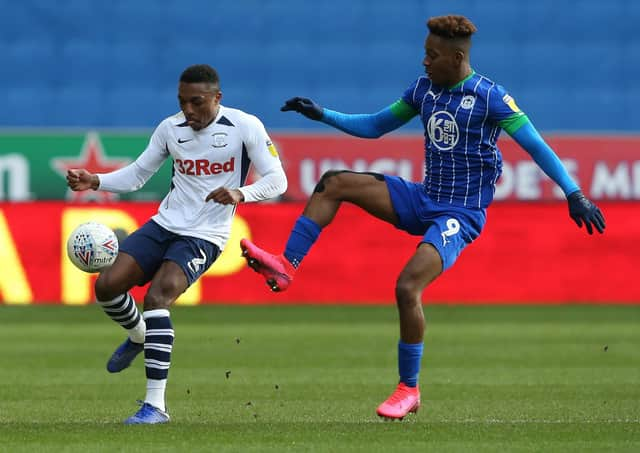 Darnell Fisher shields the ball from Wigan striker Jamal Lowe at the DW Stadium
The right-back has set up four goals this season, second only in the PNE squad to Daniel Johnson.
Fisher likes that side of the game and if the chance arises will push upfield to provide an option in the final third.
First and foremost, his place in the team will be determined by how he is doing at the back.
"I could be high up the pitch and doing great with the assists, but if we then conceded it would be partly my fault," said the 26-year-old.
"I'm a defender first but if I can get a few assists, that would be good.
"I've had four this season, only one less than DJ who is in the form of his life.
"DJ only went above me when he set up the first goal for Tom Barkhuizen at Wigan at the weekend.
"So I think I'm doing okay on that front.
"The assist for Scott Sinclair in the Swansea game was a throw-in. I didn't think I'd get an assist for a throw-in but I did.
"It was a good throw-in to be fair, I put a bit of disguise on it which nearly caught Scotty out!
"There was the one for Josh Harrop against Charlton which he guided into the top corner.
"I really didn't expect him to shoot from there but what a finish that was and it was nice to be involved.
"The Barnsley one was a good move for the team. I managed to cut it back and Barky slotted it in.
"I had to let the ball run past me and cross on the turn because if I had turned inside, the defender would have got the ball off me.
"Four assists isn't bad for someone who just defends – well, that is how some people see me.
"The manager encourages me to get forward.
"If we play with two sitters the onus is on the full-backs to get up the pitch.
"But if there is only Ben Pearson sitting, the full-backs have to be a bit more defensive.
"If the ball is on my side, it is a case of joining in, if it's on the other side you tuck round and cover."
North End head to the Potteries on Wednesday night for the second of two away games in five days.
They face Stoke City at the bet365 Stadium (8pm) having won 2-1 at Wigan on Saturday.
Naturally, Fisher enjoyed the weekend win, and he had to be adaptable.
He played 72 minutes at right-back before shuffling across the pitch to operate at left-back when Andrew Hughes went off.
Playing both full-back roles was demanding for the former Celtic man.
"When I saw Tom Clarke getting ready to come on, at first I thought it was me coming off," said Fisher.
"Then I could see that Hughesy was struggling and the gaffer just said, 'You are going over to left-back'.
"I played left-back at Wigan last season and in a couple of other games around that time.
"It is harder to start a game at right-back and then move to left-back.
"If I'd started at left-back you can get with it from the beginning.
"At times I had to drop a bit deeper than I would have liked but I got through it."
Fisher felt the win at Wigan was a deserved one, even if PNE had to soak up plenty of pressure from the hosts in the last half-hour.
They made harder work of it than they should, having taken a 2-0 lead with goals early in each half. Wigan pulling a goal back changed the complexion of the Championship clash.
Said Fisher: "I thought it was a good professional performance from us.
"We were in control for most of the first half, scored early in the second and even when Wigan pulled one back I didn't think it was too bad.
"Our defending was good when they put us under a lot of pressure. A clean sheet would have been nice but 2-1 was still a good result.
"We should have been out of sight in the first half.
"After Barky scored, Scotty had a good chance and Sean Maguire had a header which I still don't know how their keeper David Marshall managed to save it.
"We play Stoke next, which will be tough.
"They've changed manager since we last played them – he's made them harder to beat.
"We beat them at home earlier in the season and did well that night but this will be harder on their big pitch.
"We've started this month well and we are looking to continue that.
"When you look at the season so far, we have done all right. At the start of the season if you'd told us we'd be where we are in the table in February, we'd have taken that.
"We're in a good position but have to keep going."