Five talking points from Preston North End's last gasp derby win over Blackburn Rovers
Alan Browne and Liam Lindsay scored the goals as PNE won 1-2 in Friday night's Lancashire derby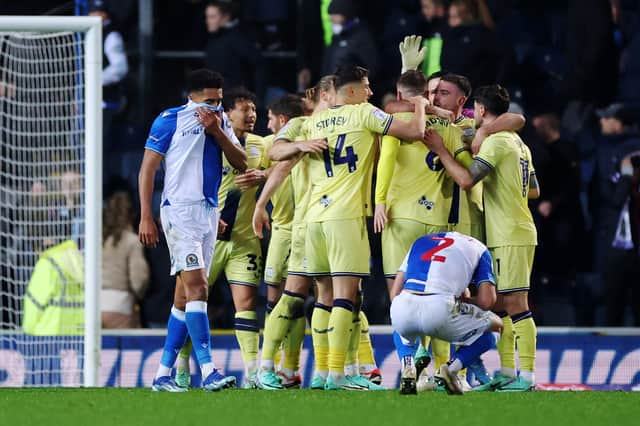 Ahead, in style
Preston North End had gone from right to left successfully at Ewood Park before, but Alan Browne's opening goal was a level up. As the captain broke forward into vacant final third space, it was just a matter of whether Brad Potts could pick Preston's number eight out. Once he got his head up and managed to do that, you had full confidence in Browne to stick the chance away. He never felt like he was going to miss, either. It was vintage AB8: a lung-busting run forward, impeccable touch and devastating finish. A high grade goal, made even better by the celebration.
On the opener, Ryan Lowe said: "Yeah, when you say by design, we've got a team who've got secure and risk areas and then it's whether you can hit those balls. Pottsy has hit those balls all season. It was a great pick out. The players are all over one side of the pitch and for him to hit that pass - I think he hit a diagonal one against Plymouth. We want him to hit those balls when you're up against a back four.
"Browney has seen the space and burst into it, which is what good attacking midfielders do. The pass, the touch and the finish was different class. I won't big it up too much... well, I will actually because it's a fantastic goal. If that's played in the Premier League, you are talking about it for weeks. So, we'll make sure we talk about it because it was a fantastic ball and fantastic finish. I am really pleased they can execute those type of goals."
Ryan gets it right
Full credit went to the men in yellow for battling until the very end and making more derby memories at Ewood Park. But, Lowe deserved his fair share of praise post-match too and he appeared to get it from supporters on social media. Lowe made one change for the game - Will Keane coming in for Mads Frokjaer - but it was his second half substitutions which really turned the game in Preston's favour. Ched Evans loves playing against Blackburn Rovers and his impact was vital once again, while Robbie Brady and Frokjaer added intensity and flair, respectively, in the opposition half. The message was to get crosses into Blackburn's box and that is how North End won the game. Jon Dahl Tomasson's subs were ineffective; PNE's were bang on.
On the substitution of Holmes, Lowe said: "He took a little bang (calf) and had some cramp. I know the fans love him and want him to stay on the pitch. But sometimes, with the way he runs and his pace and power, we do have to protect as well. Liam (Millar) was the same. These lads get us up the pitch and we know when we need to take them off, because we've got the red flags on the side - knowing when they are in a zone where they might fatigue or get injured. It was mostly tactical, but a bit of tiredness in there as well." 
Enthralling 90 minutes
The neutrals who tuned into this one on Sky Sports will have not been disappointed. This was a Lancashire derby played in the right way: two teams putting every ounce into the match, in search of the bragging rights. The start to the game set the tone and it was end-to-end throughout. Rovers more than played their part and will have felt they deserved a point from the game, but PNE's spirit carries them over the line at times and there was no better place for that to happen. As Browne pointed out post-match, North End's physicality and experience was superior to Rovers' in the second half and they managed to find that edge.
A fitting winner
You could imagine Liam Lindsay wrestling a bear if it meant getting three points. So, as Ben Whiteman clipped his cross into the perfect area on 90 minutes, you were just hoping that the big Scot was somewhere in the vicinity. He was indeed, with the header emphatically taken and the exact bravery, determination and guts you need on derby night. Lindsay is a warrior and he was always going to throw everything he had at that ball. A brilliant moment, for another PNE player who refused to lie down at Deepdale.
A less happy Liam
Liam Millar cares greatly about his football and the team. The Canadian didn't have his best night at Ewood Park, with makeshift right back Lewis Travis nullifying the loan man's threat. Millar made way 20 minutes from time, having fatigued in the game. He was constantly willing to run with the ball and ask questions, but the end product eluded him on the evening and you could see his confidence dwindle slightly as the contest wore on. It was the right time to take him off. Millar will have several good days in Preston colours and must keep his chin up. The backing of the manager will certainly help.
"He is disappointed with himself, but I told him he still did a job for the team," said Lowe. "He's saying that he wasn't great and the fact is he's disappointed with that, but we won and that is his job done. What he's got to do is work a way around that, when people are tight and tagging you. He will be fine. He actually apologised and I don't him he didn't need to; Travis is a good player and he's gone out there to man mark him.
"He's then got to find a way of opening other avenues for people to get in. It just wasn't a night where he had that quality of coming inside and getting shots away. There is no disgrace in that... he is a top footballer Liam, and he will get his head up again. He's been fantastic. I am not classing it as a bad game, just one where he never had as much impact as he'd like. He's been different class and he will be fine."