'We'll wait and see' - Ben Whiteman confirms Preston North End contract talks
The midfielder is in the final year of his contract at Deepdale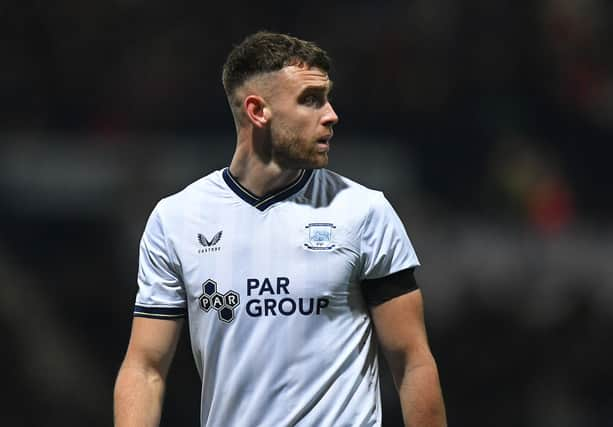 Preston North End midfielder Ben Whiteman says discussions are taking place over potentially extending his contract at Deepdale.
The number four, who signed in January 2021 from Doncaster Rovers, has entered the final year of his contract at Preston. The midfielder has been a regular in the North End team ever since his arrival, with just short of 120 appearances made in PNE colours. Whiteman's season started late this year following a hernia operation, but he is now fit and playing regularly again.
Club captain Alan Browne is also out of contract next summer, but has openly said he would be happy to sign fresh terms. Whiteman is the other stand out name on the list and it remains to be seen whether North End can tie him down to a longer stay. There were tentative links to Watford and Fulham last season, but speculation over the summer was non-existent. Whiteman says he is open to what the future may hold.
"I wouldn't say it's on my mind," he told the Lancashire Post. "There has sort of been a few conversations and we will see where we're at. Yeah, obviously open - we are having a few conversations with the club and Peter (Ridsdale) and we will see where that takes us. So yeah, we'll wait and see."
Whiteman's first appearance of the season was off the bench against Plymouth Argyle, as North End triumphed 2-1 at Deepdale. The early season form which saw Preston win six games in a row is now in the past, with Ryan Lowe's side having gone seven without a victory. North End's number four knows the team now needs to improve in order to get back on track.
"It was an unbelievable start," said Whiteman. "I don't think anyone would've expected it and the lads were flying. But, it's one of them now where the real season starts and the going gets tough - you've got to all stick together. You look at the performance last Wednesday night and that is the disappointing one. I don't think there was much in the (Hull) game to be fair. They obviously looked really nice on the eye, but were there many clear cut chances? I don't think so. I think we huffed and puffed in and around their box, but we need to be a bit better."
Eight new players came to the club in the summer and manager Lowe has tinkered with his team in recent weeks, but Whiteman doesn't believe the manager is still trying to work things out.
"Not really, no," said Whiteman. "I think, if you look at the manager last season and the way we have played this season, we have mixed it up. I think we have done it for the better. If you look at the game plan from last Wednesday, I don't think anyone would've expected that - even Southampton. I think that has been a massive change. The start of the season took us all by surprise really, but now it's about kicking on. When your backs are up against the wall, it's what you're about and I am sure it will come. Obviously the decisions haven't gone our way, but can we play a little bit better? Probably."