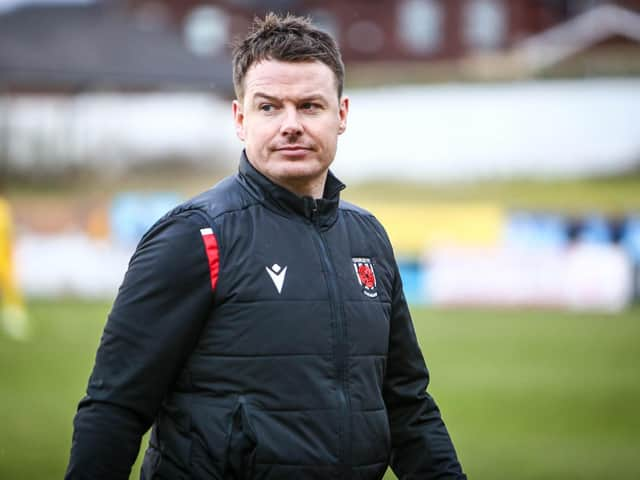 Chorley boss Jamie Vermiglio
After a decade of unprecedented success, the Magpies found themselves in unfamiliar territory last season – struggling at the bottom end of the National League table.
In many respects, Vermiglio's men were victims of their own success having unexpectedly won promotion to the top-flight of non-league football in 2019. It proved to be a step too far for the part-timers as they tried to compete against full-time operations.
They spent the majority of the time entrenched at the bottom – and were relegated via an unweighted points-per-game ratio after the Covid-19 crisis brought a premature end to the season at non-league level.
Long-serving skipper Andy Teague has left the club after nearly a decade-long stay
Having endured such a difficult time last time out, Vermiglio has decidedthis summer is the time to freshen up his squad.
Long-serving stalwarts such as Andrew Teague, Jake Cottrell, Josh O'Keefe, Marcus Carver and Adam Blakeman – pivotal players for the club over the years – have departed and been replaced by more youthful faces.
"I would say that there is a new broom sweeping through the club," said Vermiglio, who has brought in 10 new players over the summer.
"We are looking at a different sort of mentality; a different sort of player. We have had the old guard and they have served us brilliantly over the years.
Goalkeeper Matty Urwin remains at the club
"That consistency has been a massive part of the club. It's run right the way through the club from top to bottom, including me.
"I have been like a mainstay at the club from player to coach to manager.
"That consistency has got us quite far.
"But I think we all agreed this summer that the part-time/full-time element of last season definitely went against us.
"So what we do want to do is when we get an opportunity to play at National League level again, we want a kind of player that we can perhaps push on full time with.
"We have now changed our training schedule to a Monday, Tuesday, Thursday night schedule – a bit of a hybrid model. We are also looking to develop our youth and B-Tec group so that we will have more of a pathway through from youth to the first team.
"There is a lot of change going on which we think will be more favourable to us."
Despite releasing a number of the old guard, Vermiglio has hung on to some existing members of last season's squad who he believes can complement the new arrivals.
Goalkeeper Matty Urwin will remain between the sticks this season, while players such as Scott Leather, Lewis Baines and Elliot Newby will be back for another season.
"We did offer contracts to seven of last season's squad. Four of them signed new deals. One player Alex Newby signed a deal with Rochdale in League One, which was always going to happen and all credit to him.
"It's a great move for him.
"One or two other players decided to move on to try to better themselves.
"But I'm really pleased that the four players have decided to stay on.
"Matty and Scott are the the spine of the team and I'm really happy that both Lewis and Elliot are staying on."