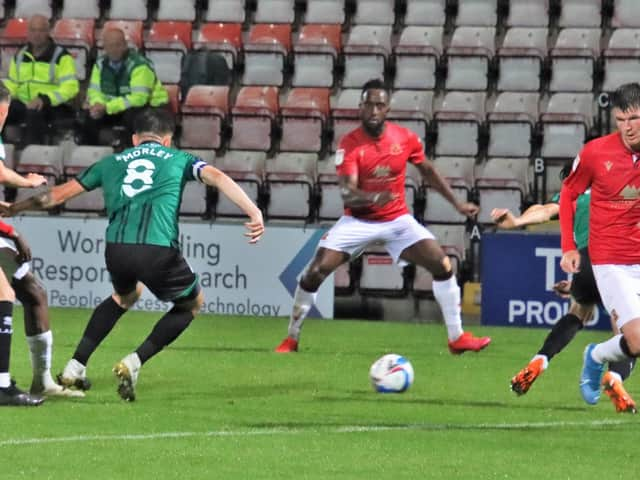 Morecambe played Rochdale behind closed doors last week
The letter, addressed to the club's fans, sponsors, local MP David Morris and the government, outlined the club's position as it prepared for a second competitive home game of the season behind closed doors on Tuesday evening.
Seven days on from hosting Rochdale in the EFL Trophy, the Shrimps welcomed Oldham Athletic for a Carabao Cup tie in the absence of supporters.
The government had previously set October 1 as the date for when fans could return to venues at 25 per cent capacity on average but that is under review after a spike in coronavirus cases nationwide.
However, the EFL's head of policy, John Nagle, has written to the 72 member clubs to say 'the next 48 hours are critical' as discussions continue over any return of fans.
Referencing the next two days, Nagle wrote: "Amongst other things, this will include a meeting between the Secretary of State for Digital, Culture, Media and Sport, Oliver Dowden MP and senior administrators from across sport, which will be attended by EFL chairman Rick Parry.
"Failure to (allow fans to return), or to at least provide any credible roadmap back to the return of fans in the near future, could have catastrophic consequences for many football clubs and the communities they represent."
The letter states EFL clubs will make a collective loss of £200m if fans do not return in the 2020-21 campaign - and have already lost £50m in gate income from last season.
The EFL said on Tuesday it remains in talks with the government over staging pilot events - which are now limited to a maximum capacity of 1,000 - this month.
A spokesman said: "The league is clear in its view that social distancing can be applied safely in football stadia and that having crowds at matches is an absolutely essential part of helping to protect club finances, which remain under extreme pressure.
"Therefore, the successful delivery of further pilots will be an important step towards getting larger number of fans into grounds safely."
It has been reported EFL clubs had until Tuesday to request a pilot game this weekend in order for their plans to be signed off.
In Morecambe's case, the club has previously said it will be examining options for a test game and, once one has been identified, it can start to put plans in place.
Until then, the club is having to plot a path forward despite a summer which has seen a raft of new sponsorship deals as well as a crowdfunding campaign which generated a five-figure sum.
In his letter, Mr Howse said: "At Morecambe Football Club we have been battling with the issues created by the virus to ensure non-playing staff, playing staff and eventually supporters can return to a safe environment.
"The health of our amazing supporters when attending matches at the Mazuma Stadium is an absolute priority, not just for us but for the government.
"We, along with other clubs, are guided by the EFL and government on what is permitted. However, it should be recognised that Morecambe, as with other football clubs, is facing an impending financial crisis as a result of the Covid-19 pandemic.
"We have been heartened by the financial help provided by our loyal supporters and sponsors but that's simply not enough.
"At Morecambe we are suffering through lost gate receipts, matchday activity from boxes, the concourses and from our famous pies, whilst still paying wages.
"In order to resume playing in a safe environment we have incurred additional costs in testing and staff safety.
"Over many months, football and the government have worked collaboratively to develop a stringent set of guidelines for the application of social distancing at grounds.
"The guidelines will hopefully allow us to operate the stadium at 25 to 35 per cent capacity, initially, to maintain one metre-plus social distancing.
"This detailed guidance has now been implemented at football stadiums across the country by experienced crowd safety professionals in order that we can be ready for the return of crowds at the beginning of October.
"During September we have all seen a number of successful pilots held across sport that have tested the guidance and shown successful delivery.
"Therefore football, and we at Morecambe, now wish to see the government give the green light to the return of crowds from the beginning of October as originally planned."