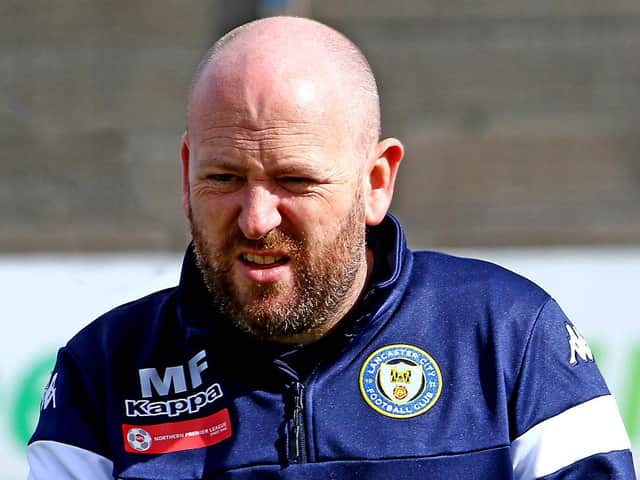 Mark Fell
The 2020/21 campaign has been frozen for a month after the government announced new restrictions across the country through November.
However, the lockdown will end next Wednesday and Lancaster City look set to go straight back into league action when they travel to Radcliffe on Tuesday, December 8.
Dolly Blues boss Mark Fell had earlier questioned whether it was feasible from a player safety point of view to expect them to go straight into competitive action after four weeks on the sidelines.
But it seems with the backlog of fixtures brought about by the enforced layoff, the league management committee are keen to see games get back up and running as soon as possible.
For Fell, the scenario is far from ideal but he has been reassured by the levels of fitness work undertaken by his squad during lockdown that they will be ready to cope when the campaign gets back under way.
"I do think we will start again next month," said Fell. "I think we will have to wait for today and the announcement with regards to the new tiered structure that is going to be in place.
"Then we will know a bit more of what we are working with.
"It's a strange one really because there is still so much uncertainty surrounding it all and once again it becomes difficult to plan for.
"I know we won't be starting a week on Saturday.
"The league gave us the option of starting on the Saturday but I just felt that it would not give us the best chance of applying ourselves in the right way.
"We are going to start on the Tuesday so I now understand we will be going to Radcliffe for our first game back.
"Then we have got Matlock and then we are home to Scarborough."
Over the past week, the government has announced a financial package to help sport through the pandemic and City could be in line to receive funds.
The other announcement this week that grounds could now start operating at 50% capacity was also warmly welcomed by the club, who had been limited to allowing just 200 spectators inside Giant Axe by the local council.
"I know the club will have been given some direction in terms of the financial help which could be on offer," Fell said.
"I personally have not heard anything but obviously any assistance would be a good thing.
"The more important thing for us was the announcement about the crowds.
"Effectively they are saying we will be allowed 50% of our capacity or 2,000, so that would put us at 2,000 for Giant Axe.
"Obviously I am not for one moment saying that we will get 2,000 fans through the gate but it would certainly take the cap off on attendances that we have been struggling with.
"I do think there will be more people interested in coming out and watching football.
"I think there is an opportunity to raise our capacity in a safe way."