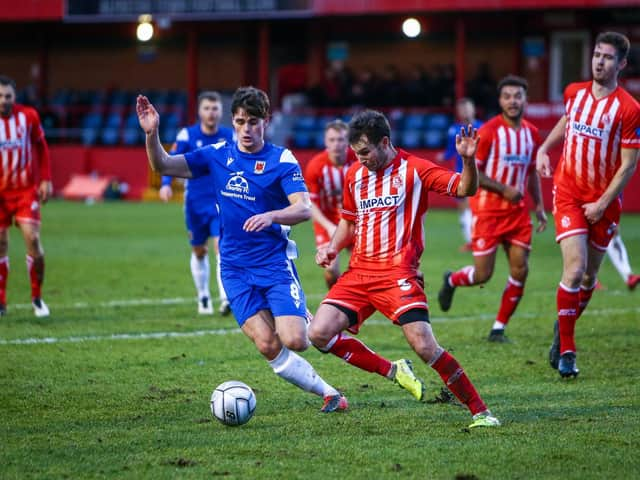 Mike Calveley, left, in action for Chorley this season (photo:Stefan Willoughby)
It is believed discussions are ongoing about forming one division under the National League, which will include clubs from both the North and South divisions.
The Magpies are one of 19 clubs across the two divisions who voted to continue with the campaign, but they were out-voted by 24 others clubs who were in favour of declaring it null and void.
That was because of a dispute over funding and how clubs were going to be able finance the rest of their participation when all games were going to be played behind closed doors.
However, the clubs who wanted to play on have joined forces in asking the league's Board to consider proposals to carry on.
The forming of one division appears the most favoured solution and that would mean clubs playing each other only once and any midweek games would be localised as much as possible.
Whether the existing results from this season could be incorporated in a points-per-game system could be an issue, with the clubs who were near the top of their respective league likely to want some advantage.
It is believed there would be two promotion places available for the team that finishes top and the play-off winner, although nobody would be relegated and no club would be relegated from the National League, which voted to continue with its season.
The new division's season would likely kick-off towards the back end of this month.
Chorley have continued to train and defeated Salford City Under-23s in a friendly at Victory Park last weekend.
Meanwhile, the National League secured a much-needed financial boost, agreeing a new £4m title sponsorship deal with Vanarama.
The vehicle leasing company has extended a seven-year partnership with the National League – comprising of three divisions – until the end of the 2024-25 season.
The funds will be welcome given the National League North and South divisions were cancelled last month due to financial worries caused by the coronavirus pandemic. National League chairman Brian Barwick said: "We are delighted to continue our title sponsorship with Vanarama and thank them for their steadfast support during the past 12 months.
"This enhanced arrangement will take our partnership up to 11 years. That speaks volumes about the confidence we both have in each other.
"The National League has found a great organisation to work with and we are pleased Vanarama find the relationship to be equally rewarding."
"We all look forward to four more years growing our unique partnership."