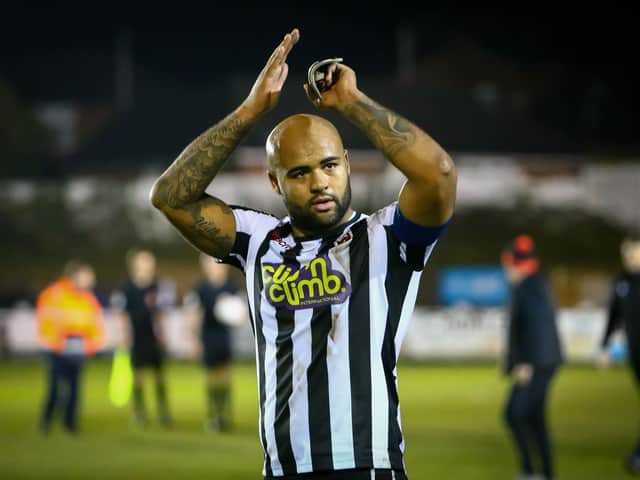 Courtney Meppen-Walter Photo: Stefan Willoughby
The strapping centre half has been one of the Magpies' star players over the last couple of years.
Indeed, he is often handed the armband on matchdays when club captain Andrew Teague is absent from the team through injury.
It is the kind of faith that may raise a few eyebrows among many observers especially considering the defender's past.
Courtney Meppen-Walter in action for Chorley
A promising player in the Manchester City youth set-up, Meppen-Walter represented England at Under-17s and 18s level.
However, his burgeoning football career came to an abrupt halt after one fateful night in Manchester city centre in 2013.
Aged just 18 at the time, the car which Meppen-Walter was driving was involved in a collision with another vehicle.
Tragically, the crash caused the deaths of Kulwant Singh and his sister Ravel Kaur. Meppen-Walter was later convicted of causing death by careless driving and was sentenced to 16 months in prison.
At the start of last year, the Magpies ace was hauled before the courts once more when he pleaded guilty to drink-driving.
At that point in time, Vermiglio and the club's Board of directors may have considered releasing the player for his misdemeanour, especially after taking the bold decision to sign him in the first place considering his previous conviction.
But they reasoned that ditching him when he needed them the most would have been the wrong thing to do. Meppen-Walter admits he feels a huge debt of gratitude to the club for the way they stood by him.
Now aged 25-years-old, he believes he has matured thanks to the guidance he has received.
The former Stockport County and Carlisle United ace revealed that he lives daily with the consequences of his past actions. But now the father of a young son, he is determined to make a positive contribution to society in the future.
"What happened will be with me forever now," said Meppen-Walter.
"It is one of those things which I have had to go through and hopefully I'm a better person for it now even though I wish it had never happened.
"It is a massive, massive regret.
"Nothing in my life will ever be the same again.
"It's had a massive effect on me but I am just trying to put it behind me and keep going.
"I'm 25 now, I've got a little kid and I have to mature for him and make sure I make the right decisions form herein onwards.
"The manager here at Chorley has been there for me.
"He looked after me and is a top guy.
"He has made sure that he's put his arm around me when he's needed to and that has helped me a lot."
Meppen-Walter enjoyed a short spell at Chorley in 2016 before leaving for Stockport.
He returned to Victory Park in 2018 andhelped the club win promotion from the National League North last season.
Unfortunately, the Magpies, who remain part-time, have found things tough this season in the top-flight of non-league football.
They are bottom of the table and although mathematically they can rescue themselves, realistically relegation appears inevitable with 11 games to play.
"It is going to be tough to stay up," he said. "We are basically going to have to win nearly every game, but you can never give up .
"We have just got to keep going.
"This season has been difficult. We always knew that it was going to be a tough task.
"You probably could say that nobody expected us to get promoted last season.
"We began like a house on fire and it was just a great season all-round.
"This season, I don't think we have done horrendously bad, obviously our current position is because of what's happened over the majority of the season.
"At the start of the season, we had a few big defeats but we felt that in the dressing room, we still had enough to get through the games obviously it has not worked out the way we would have liked.
"Whatever happens, we have to take the positives out of this season – we can't dwell on all the negatives.
"It's given a lot of players who have never played in this division before a taste of what it is like and hopefully it will have a positive outlook on everybody."
Despite impending relegation, Meppen-Walter does not envisage himself being anywhere else next season.
"Chorley is a proper family club," he said. "Everybody looks out for each other and that's what I like about it."
Meppen-Walter played alongside some of the best players in the country when he was a youngster.
In the youth team at Manchester City, he went on to represent England at Under-17s and Under-18s level and played alongside Premier League stars such as Raheem Sterling and Jordan Pickford across the world.
"You could just tell that Raheem was going to be the next big thing when I played with him.
"Did I think he was going to be as good as he is? You don't really think that far ahead. I knew he was going to go on and have a good career, but he's probably gone on to do better than most people expected.
"It was a great time for me – I got to play all over the world. I've been to Dubai, Spain, Italy, Germany – I've literally been everywhere."