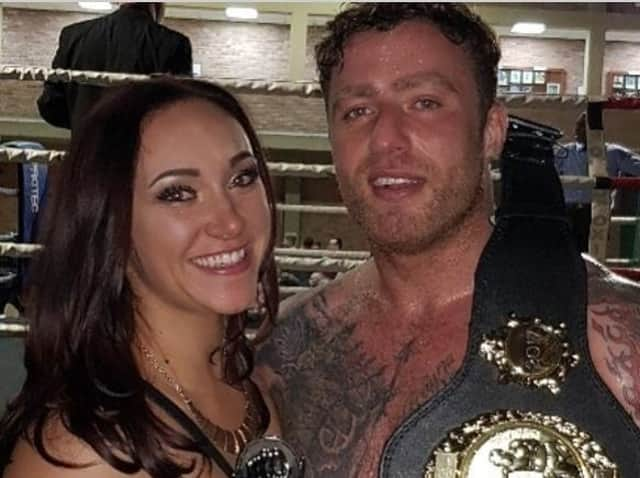 Lizzie Grieve with her husband Clint, who was a semi-professional boxer before an accident left him paralysed from the neck down.
Now Clint Grieve's wife is racing against time to fund-raise £40,000 to equip their home with vital rehabilitation facilities that she says are not available through the NHS during the pandemic.
Blackburn dad-of-two Clint was treated in intensive care for just over three weeks at Royal Preston Hospital before being transferred to Southport Rehabilitation Clinic. But unfortunately the gym there has had to close because of social distancing measures.
His wife Lizzie says the family are desperate to start his rehabilitation as soon as possible, as the first six months after leaving intensive care are imperative if he is to have a shot at walking again.
The 35-year-old added: "The NHS funds basic needs but it's shocking really that some of these items are considered almost luxuries. Being independent is not a luxury."
Clint (40) fell from the top of the stairs, leaving him unable to move, at the beginning of March, and damaged his C4 and C5 vertebrae, which was pushed pack into his spinal cord.
He had to be ventilated for a few weeks, contracted numerous infections and endured an eight-hour spinal surgery and "endless treatments".
"It was really scary sitting in the relative's room while he had surgery. It was a very high-risk and tricky operation. It's been a pretty horrendous journey," Lizzie said.
While he is now medically stable after nearly two months, he is only at the beginning of his recovery, as he still has no upper or lower limb movement, apart from some flickers in his arms.
"Before then, he was super fit, went to the gym every day and was an active dad. He'd been boxing for 10 years, maybe more. He was a heavyweight who'd won lots of trophies and has a title belt," Lizzie said.
"He was always out with our girls and we'd go on active family holidays to the Lakes.
"But his accident has changed life for everyone, which we have to come to terms with, and the pandemic has made it 10 times harder. It's difficult not knowing what the future will look like.
"Some people get back up walking after rehab while others stay exactly the same as they were right after the accident.
"I know it's a difficult time for everyone but most people's lives will go back to normal after the pandemic. Ours won't."
Clint has been unable to see his five and seven-year-old daughters for two months due to the coronavirus as he is extremely high-risk.
"It would have been too traumatic for them at first when he was incubated and couldn't speak," said Lizzie.
"I self-isolated with him for five weeks, then I needed to leave to have an operation and couldn't go back in, in case I brought the virus in.
"He's desperately missing me and the kids, and that's mentally probably the hardest thing for him, in a strange way. He's in this battle with zero support around him, apart from his wife on the end of the phone.
"He has good and bad days, and it's difficult supporting him on the phone. We go up and down - it's like trauma.
"And the pandemic just makes it more worrying."
So far, the family has raised more than £6,000 in just 48 hours.
"I'm overwhelmed. It's people's kindness that keeps me going. It's a very humbling feeling, and amazing that people want to help. It gives the girls a chance to have their dad back to who he was. I can't put into words how much that means," said Lizzie.
"Any help would be so appreciated. And thank you to everyone who's been so kind to us so far."
Lancashire Post reached out to Southport and Ormskirk Hospital NHS Trust for comment. It says the package of care needed by Clint after leaving the clinic cannot be determined until he is closer to that point and could be provided and funded by a different body to the NHS, such as social services.
A Trust spokesperson said: "Our spinal care patients continue to receive the necessary and appropriate rehabilitation despite the disruption caused by Covid-19. We work with social care and other agencies to ensure patients receive the right home care package when it is time for their discharge. We wish Clint a speedy recovery."