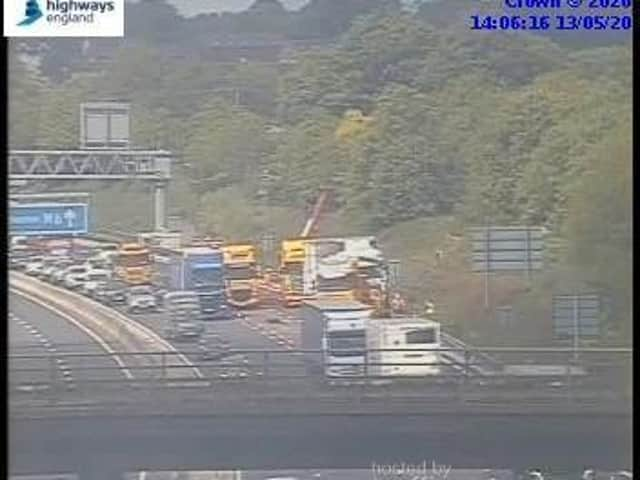 The crash involved two lorries near Sandbach Services, with one of the wagon's plunging into the embankment
Three lanes had to be closed on the southbound M6 at around 1pm after the crash near Sandbach Services, between J17 (Congleton, Sandbach) and J16 (Crewe / Stoke-On-Trent).
Lanes 1 and 2 remain shut whilst recovery teams work at the scene, but lane 3 was able to re-open at 1.45pm.
One of the lorries has become stuck after jackknifing and hitting the embankment, creating difficult conditions for recovery teams.
Traffic is queuing for around four miles with congestion from J18 (Middlewich / Holmes Chapel) to J17 (Congleton, Sandbach).
Highways said it expects the lane closures to remain in place until around 6.30pm.
North West Motorway Police have confirmed that no-one has been injured in the crash.
The lorry jackknifed after a collision with another lorry on the M6 southbound in Cheshire at around 1pm (May 13)
One of the lorries involved in the crash on the M6 near Sandbach Services. Pic: North West Motorway Police