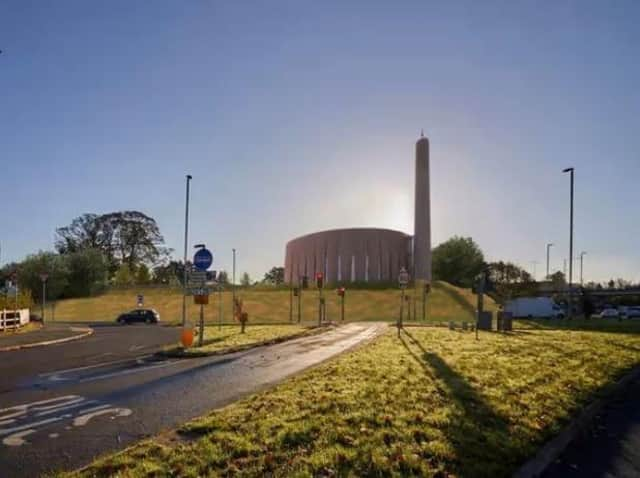 How the new mosque may look at the Broughton interchange
The Friends of Broughton Mosque said the website – which reportedly uses a Colombian internet domain – features false and potentially defamatory content, the group says. There is no suggestion anyone who has publicly criticised the plan is behind the website.
What do supporters of the Broughton super-mosque say?
The site of the prioposed mosque at the motorway end of the Broughton bypass (Credit: Royal Institute of British Architects)
"We completely understand that there are many legitimate views about the proposal," a spokesman said.
"Hundreds of people have written to Preston City Council and the Planning Inspectorate both in favour and against the plans.
"However, in the interests of good community relations, we urge everyone involved in discussions to refrain from anonymous attacks and make their case in a professional and respectful way.
"We believe some of the content on the anonymous website falls far short of those values."
Consultant Urologist Ahsanul Haq – who has spoken publicly in support of the mosque – said the website "implied [he] did not live in the area, and what [he had] to say ... was not relevant".
"I can assure you I live close to the site, and having spent much of my career providing medical treatment to local people, there is nothing wrong with me expressing my honest opinion about this development and the benefits I believe it will bring," he added.
What is happening with the Broughton 'super-mosque'?
A public inquiry is set to take place into Preston City Council's decision to grant permission for the three-storey place of worship on Broughton interchange – where the M6 and M55 meet the A6.
However, the development has divided public opinion – with more than 625 letters lodged in support of the scheme, but also over 425 objections.
Concerns centred around its potential impact on traffic – as well as the scale and appearance of the building, which will be able to accommodate 248 prayer mats and associated worshippers.
Preston planning officers recommended that councillors on the committee give the go-ahead to the application, telling them at the meeting where the matter was discussed that the need for a mosque in the area "tipped the balance" in favour of approving it.
But the subsequent decision to do just that caused consternation amongst city councillors representing the Preston Rural East ward where the mosque would be built.
Why are objections against the planned Broughton 'super-mosque'?
One of them, Cllr Graham Jolliffe, wrote to the government requesting that the matter be 'called in' for further consideration.
A planning inspector will then make a recommendation to the Communities Secretary, Michael Gove, as to whether he should rubber stamp or overturn the original permission.
The public inquiry starts on August 2, 2022.