Two veterans from Preston and Chorley urge people to wear their poppies with pride this Remembrance Weekend
A veteran from Chorley and a WWII volunteer from Preston are urging people to wear their poppies with pride and support the Royal British Legion this Remembrance Weekend.
Watch more of our videos on Shots! 
and live on Freeview channel 276
Visit Shots! now
This Remembrance Weekend, the two stalwarts are urging people to support their beloved Royal British Legion and wear a poppy to remember those who have lost their lives serving this country.
John, who served in the British Army between 1966-1977, has been collecting for the Poppy Appeal at Asda's Clayton Green store every year since it first opened in 1978, whilst World War Two volunteer Violet was a runner up in last year's Pride of Britain Awards for knitting 1,000 poppies for RBL.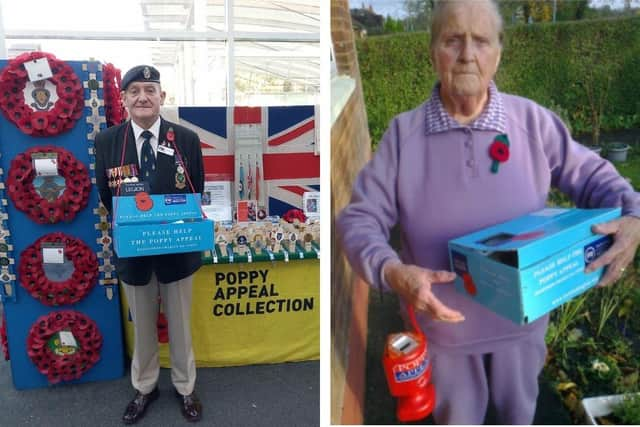 Explaining why he still promotes the RBL cause to this day, John said: "Having served in the Kings Regiment during the war and survived it I realised the importance of helping those ex-service folk who were less fortunate. The Royal British Legion (RBL) are doing a great job in supporting those people but as a charity are totally dependent upon donations.
"I have been a poppy seller now for 43 years and realised that a table and tray were insufficient to lay out all the poppy related products needed to maximise donations. I designed and made in my living room, a large foldable and portable stand that would allow the full range of RBL poppy products to be displayed to encourage more donations"
John's stand displays a wide array of RBL products, including poppy crosses with the emblems of all the UK regiments, and some of Violet's knitted poppies
Recalling how she became invovlved in the war effort, Violet said: "Living in London during the blitz meant we were often without electricity, gas and water which made life very difficult. But we had to get on with working and supporting the war effort. My friend Olive was machine gunned in the back by a German Messerschmitt plane as she was walking down the street.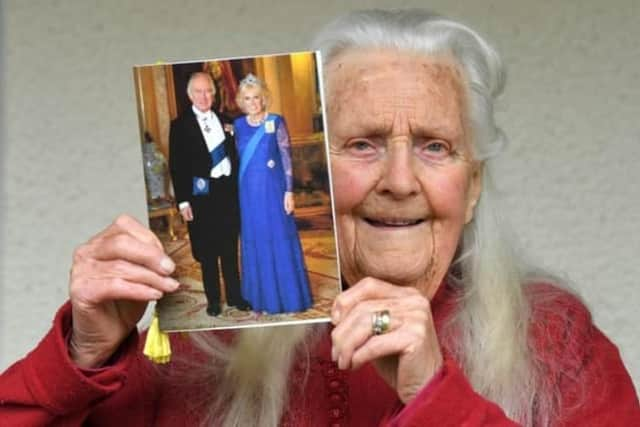 "I was injured in a bomb blast when a door at my workplace was blown off its hinges and into my face, shattering my jaw. The sound of the German V2 rockets motors cutting out was frightening as you never knew where they were going to come down and explode in London.
"This experience made me more determined to get back at the Germans so I volunteered to work on the Lancaster bombers and after the war to support the Royal British Legion by knitting poppies to sell for Remembrance day. In 2002 I had knitted 1,000 and have sold another 250 in 2023.
"While the older generation appreciate the sacrifices that their parents made during the war, the younger generation need to be reminded of the importance of supporting the RBL by buying and wearing their poppy with pride."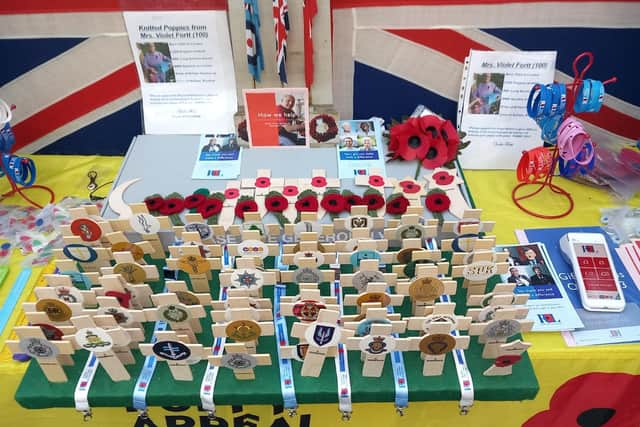 Violet's nephew Tony Emmerton is also an active supporter of the RBL, inspired by his father Jack (Violets brother) who served in the RAF during WWII before joining the Lancashire Constabulory in Leyland.
When Jack retired he became the President of the RAFA in Leyland and, wearing his RAF uniform and medals, sold poppy products for the RBL outside Leyland's Tesco up until 2014, when he passed away aged 92.
Tony added: "I have tried to maintain the family tradition of supporting the RBL distributing poppy products across the South Lakes in Cumbria (when I lived there) and now distributing Violets knitted poppies across Lytham retirement homes, Leyland and Clayton le Woods
"Both John Shipman and Violet have amazing stories to tell of the horrors of WW2, these stories should be recorded and communicated to the younger generation, encouraging their support for the RBL."