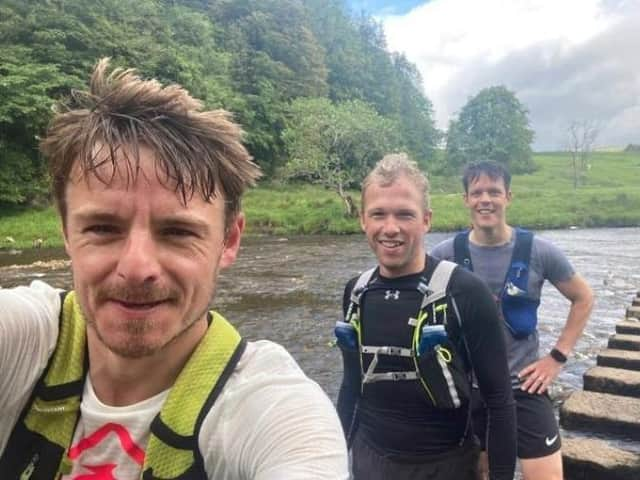 The trio (from left - Rob Simpson, Roger Grogan and James Fletcher) will run 50 miles by the River Ribble on Saturday in a tough ultra trail challenge to raise money for the Lancashire Women charity
Roger Grogan, Rob Simpson and James Fletcher have been training hard for the testing ultra trail marathon run along the River Ribble.
Roger,37,.from Wilpshire, said: "I have worked with and assisted Lancashire Women previously, so I know what an incredible support they are for countless women in the region. On hearing about the funding issues they were having due to Covid-19 I knew we had to do something to support them."
He said the Ribble route was appropriate as the river runs through the heart of the county the charity serves.
Preparing for the challenge. Pictured from left - Rob Simpson, Roger Grogan and James Fletcher with Herbie the dog.
Lancashire Women, which helped 8,500 women last year, estimates to have already lost some £20,000 due to the cancellation of fund raising events because of the pandemic.
Roger, whose company Jam Coding teachers primary pupils how to code computers, is a member of the Ribble Valley BNI Networking group which has chosen the charity as its charity of the year for 2020.
He said: " We're running the equivalent of the length of the river but we're not running the length of it for logistic reasons. We'll run from Ribchester to Clitheroe, then to Sawley and Bolton by Bowland and loop back. We'll get back to Hurst Green where we'll hit the 50 mile mark. It's all on the Ribble Way or trails We are all seasoned trail runners."
The three, who had been training individually in lockdown, expect the run to take them 10 hours with family and friends supplying food and drink en route. They have set up their own fundraising page on JustGiving.
Rob, 36, a roofing consultant from Dinckley, near Longridge, said "As runners we have all been training throughout Covid-19 to help keep us going. I think for us it is as much a mental switch off as physical challenge. We started to do more weekly miles than usual and all agreed we should push ourselves to a new challenge. The other week we ran a marathon in preparation."
The third team member James Fletcher,36, from Hurst Green is the Manchester branch director of an insurance company.
The team will stream videos on the day to record their progress
Adele Helm, Business Development Officer at Lancashire Women, said: "We are so grateful for this group taking on this challenge. The fundraising should really make a great difference to the women we support. It's really great to have men supporting us as well. "
* To support the team see www.justgiving.com/fundraising/lancswomenultra
* For further information about the work of Lancashire Women and how you can help with fundraising see www.lancashirewomen.org The charity can be contacted on 0300 330 1354 or by emailing [email protected]
* The charity has a network of female only centres, in Preston, Blackpool, Burnley, Blackburn and Accrington. It helps women and girl improve their mental health and emotional wellbeing, gain advice on managing money, benefits and debt, improve skills and knowledge, get into employment and to live safer, happier lives.