Preston councillor quits Labour and brands the party 'racist' over Gaza response
A long-serving Lancashire county councillor for Preston has quit Labour over Sir Keir Starmer's stance on the Gaza conflict - accusing the party of racism and Islamophobia.
Watch more of our videos on Shots! 
and live on Freeview channel 276
Visit Shots! now
As the Lancashire Post revealed earlier this month, County Cllr Yousuf Motala had already called on the Labour leader to stand down and make way for someone who would "show compassion" and push for a ceasefire in the six-week-long war.
Now, the Preston City division representative - who has sat at County Hall since 2009 - has resigned from the party that he and his family have supported all their lives.
In his resignation letter, County Cllr Motala said that he had been told by "many residents" in Preston that "they will never again vote for the Labour Party". He added: "We will all be voting for the Green Party in all future elections, including the General Election."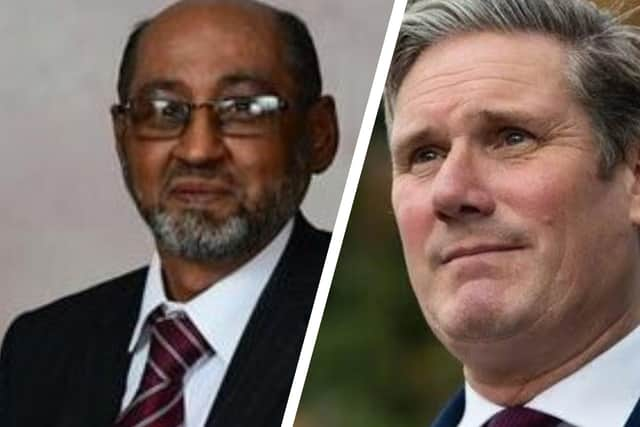 However, County Cllr Motala told the Post that he would not be joining the two-strong Greens on the county council, choosing to sit instead as an independent.
Speaking about his decision to quit, he said that he "couldn't deal with" the contrast between the human suffering seen in images emanating from Gaza - especially the plight of babies left without incubators due to lack of power at the Al Shifa hospital, eight of whom are reported to have died - and Sir Keir Starmer ordering MPs not to back a Scottish National party push for a ceasefire during a debate in Parliament last week.
"It's just soul destroying. People are being killed daily - this is genocide. It's indiscriminate and just carnage," County Cllr Motala said.
He has become the third Labour member of County Hall to leave the party over the leadership's response to Israel's military operation in Gaza, following the departures of Burnley Central East's Sobia Malik and Usman Arif, the member for Burnley North East.
The Labour leader has backed a UK government call for humanitarian pauses in the fighting in Gaza, but opposes a complete ceasefire, arguing that it would leave the militant group Hamas in control of the Gaza Strip and allow it to carry out further attacks like the one on 7th October in which more than 1,200 Israeli citizens were killed and 240 kidnapped.
Israel's military response to that rampage has seen more than 11,000 Palestinian residents of Gaza killed, according to figures provided by the Hamas-run health ministry - including over 4,600 children.
County Cllr Motala's resignation statement began: "I had always believed in the values of the Labour Party, which were aligned to mine, particularly fairness and justice for all and a commitment to helping the most disadvantaged and vulnerable members of our society - but that doesn't seem to be the case anymore. I also feel the party has gradually become racist and Islamophobic in recent years.
The letter later continued: "It is also unacceptable and shameful that we are led by a lawyer who…does not call for equal safety and security for both Jews and Palestinians - this is clearly racist.
"It is disgraceful that Keir Starmer had the audacity to censure Labour Party councillors and MPs from taking part in peaceful protests, I always believed that we were living in a democratic society where there was freedom of speech and respect for all."
The Post has approached the Labour Party for comment.
On Wednesday, a special meeting of Preston City Council will debate a motion calling for a ceasefire in Gaza, a move which the ruling Labour group at the town hall has already backed.