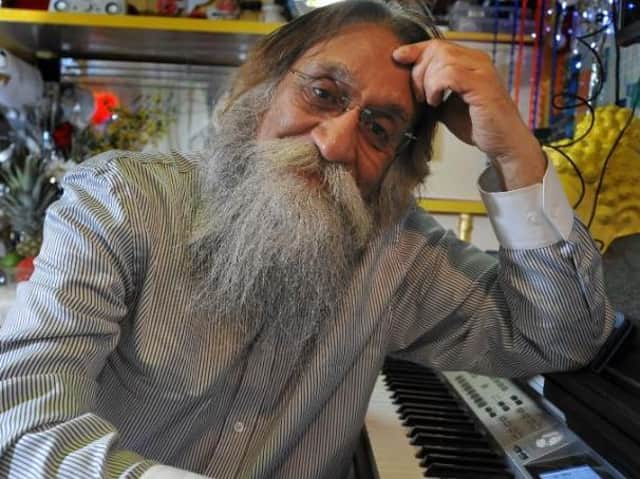 The talented artist and musician had thousands of friends and followers from around the world due to his positive approach to life
Jam Imani Rad died from cancer at a hospital in London on Sunday night (August 23), in the city where he had been living since 2017.
The former teacher, born in Iran, had lived in Preston for 20 years, but moved to the capital after he clashed with Gateway Housing over his Harrington Street garden.
Just last week, Jam - whose philosophical and spiritual teachings earned him thousands of friends and followers around the world - had posted on social media to keep them informed of his terminal condition.
Jam outside his quirky Harrington Street flat before his eviction
On Wednesday (August 19), he shared a video from his bedside, saying his cancer had spread to his spine and that he had lost control of the lower half of his body.
He said he was in a lot of pain, but was remaining philosophical about his imminent death.
He said: "So long my beautiful friends. The time has come for me. Life is beautiful but there is an end to everything.
"I love you all. My good friends, it's time to go. Cancer has reached the spine and brought pain to an unbearable place.
Jam in his garden at Harrington Street, Preston in 2017
"The cancer has reached the spine and here is when real pain starts. I have no control over my lower half of my body."
He added: "Celebrate the life. Enjoy every breath. Love yourself."
Three years ago, the then 67-year-old hit national headlines after he was involved in a controversial row with the housing association after he landscaped communal gardens outside his flat without permission.
Nature-loving Jam spent £6,000 transforming the Gateway gardens in Harrington Street into a lush and quirky green space, but was forced to dismantle his handy-work after it was deemed to be a health and safety risk.
Jam Imani Rad spent years turning his Preston council flat into a wacky den of his art
The dispute led to a bitter battle between Jam and Gateway and the pensioner was eventually evicted from his flat after was found guilty of headbutting a housing association boss.
Following his eviction, Jam moved to London, telling the Post that he had found new accommodation in the capital thanks to a fellow Iranian who had seen him on television discussing the garden controversy.
On leaving Preston, the well-loved resident said: "I don't know how many more years I have, but I don't want to waste it fighting with Gateway. So for me the battle is over and I lost.
"I am proud of what I did and if the time could go back I would have done exactly the same thing. It was my way of saying thank you to beautiful people of Preston for sharing their friendship with me and giving me a job, home, security and love.
"But I am very sad. Preston was my home, I loved it probably more than the people who were born here. The best 19 years of my life were spent in this town and my best friends are here, so I leave my heart in Preston and I take my body to London."
At the time, he said he wanted his ashes to be returned and spread in Preston - in the Harrington Street garden he loved so much.