Michelle Keegan, Joe Gilgun and the whole of the Brassic cast set up shop in a Lancashire cake store
The stars of a show created by and starring Chorley actor Joe Gilgun descended on a Lancashire cake store last week to film scenes for the latest series.
Watch more of our videos on Shots! 
and live on Freeview channel 276
Visit Shots! now
Brassic is a semi-autobiographical comedy series co-created by Joe and BAFTA-winning writer Danny Brocklehurst, which stars the Chorley born actor as the lead character Vinnie, as well as former Coronation Street favourite Michelle Keegan as his friend Erin.
Although the series is set in a fictional town based off of Chorley, much of the filming has taken place in locations across East Lancashire.
Last week, stars of the show delighted residents in Bacup as local cake shop Baked.Cakes was chosen as the TV set for a day with stars also taking the time to pose for various pictures with members of the public.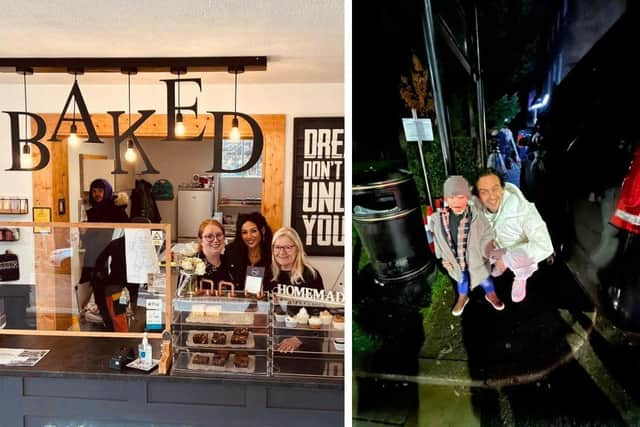 Explaining how it came about, store owner Danielle Almond, who says they have filmed in the area before, told the Post: "I just got talking to one of the locations team once, and we have a private event space upstairs so they just asked if it could be used as the green room for the cast. They love doing what they do, they're not fussed about stopping for fans but they're doing a job at the end of the day so it's nice having a place to chill out in between scenes.
"The locations team sent me an email afterwards saying it was a real treat to have somewhere so nice and the producer was saying it's the nicest green room he's ever seen! Especially with the weather we had last week, it was just nice to be able to offer them somwhere dry and warm rather than a trailer."
The whole cast – which also includes Joanna Higson (who plays Sugar), Bronagh Gallagher (Carol), Aaron Heffernan (Ash), Bhavna Limbachia (Meena) and Parth Thakerar (JJ) – were at the store on Wednesday, November 8 to film a "big scene" but various cast and crew members came by over the next two days as well.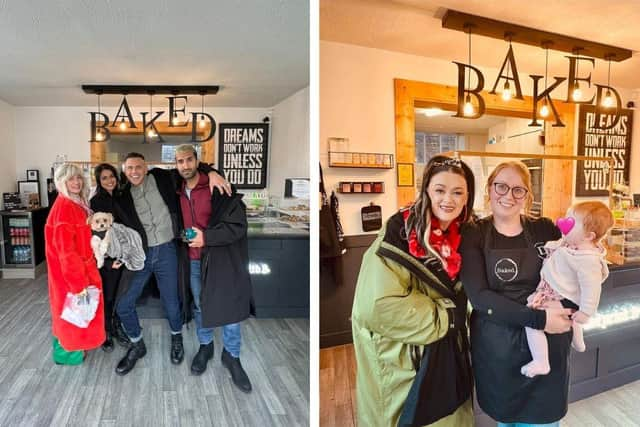 This was not just a one off visit to Baked.Cakes from the Brassic cast and crew however because they have been frequented the store many times over the past few years – actor Steve Evets (who plays Jim the farmer) even visited the shop on its first day back in 2019.
Mum of two Danielle said: "It's like having a group of friends round. We've had them all in before, so people like Aaron Heffernan, when he came again last week he was saying 'the shops looking as lovely as ever'. Joe's been before – we actually have a sign in the toilet that says 'Joe Gilgun's had a wee here' because when he was filming a scene last time, he darted in and said please can I use your toilet because I'm busting for a wee so he's done us the sign since and signed it.
"They're all lovely, like upstairs we have a coffee machine and a sofa area and I went up to say 'help yourself, make yourself at home' and Joanna Hickson was already making brews for everybody, she was like 'I've just taken over the coffee machine, my sister's got one of these, I absolutely love it!'"
Bafta nominated Brassic is now fillming its fifth series, with the fourth having aired over the summer, and in April it was also announced that a sixth series has been commissioned.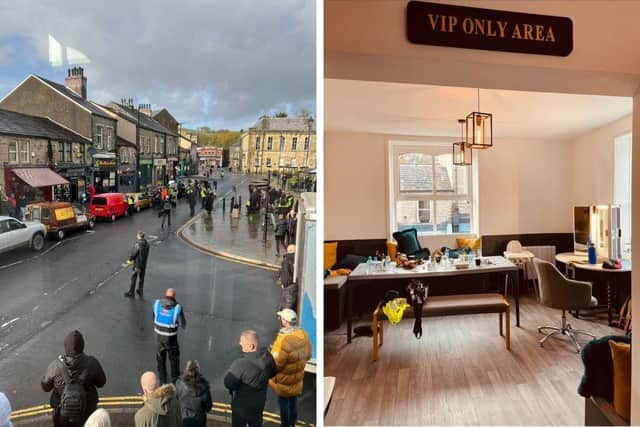 A fan herself, Danielle added: "It's nice and fun, they address serious issues but they do it in a light hearted way which, at the moment when everything's a bit down, it's something to pick you up really, and it's nice to see the town as well. You spot places and go 'oo I know that' and then you go 'ah yes that's where it is!"
The show's frequent filming in the town has also had benefits for Baked.Cakes, with Danielle saying they have had a boost in followers on social media from Brassic fans up and down the country who are keen to order deliveries of the treats their favourite stars have tried!