Hundred runs in 100 days for charity
A recruitment consultant placed on furlough during coronavirus has set a target to run 100 park runs in 100 days for charity.
Wednesday, 8th July 2020, 5:04 pm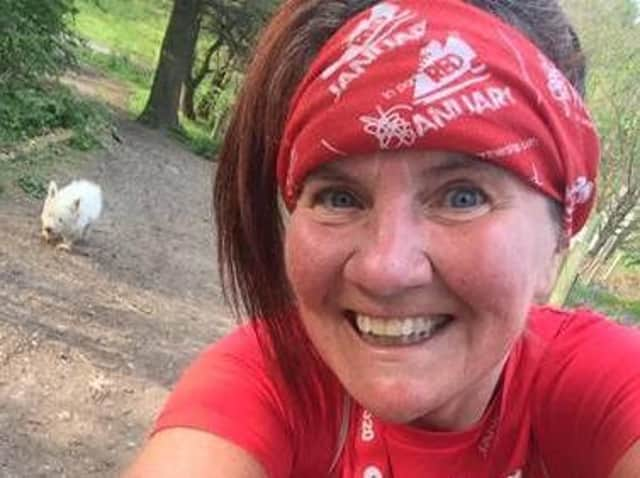 Ramona Mulligan has dome 100 park runs in 100 days
Ramona Mulligan, of Clayton-le-Woods, Chorley, had initially set out to complete 50 runs in 50 days with her dog Alfie as part of their daily exercise before the pandemic struck.
She had secured a charity place for the Great Manchester Run for the charity Shelter, but when it was cancelled due to Covid-19 she set up a JustGiving page with the aim to run 100 park runs in 100 days for the homeless charity.
Although Ramona has returned to work for Adecco UK, in Preston, now the 52-year-old is due to hit her 100-run milestone with a 5k run around Cuerden Valley park.
Ramona has also been taking part in running challenges with her club Red Rose Road Runners and ran to 16 different locations to donate nonperishable items to support five food banks in Preston, helped the Noah's Ark charity with cat food donations and is taking part in a new challenge supporting Milly's Smiles for Manchester Children's Hospital.
Californian Ramona said: "In January, I took part in RED January for the charity MIND where I ran every day in January for my own mental health and the mental health of others.
"I had taken part in 2019 too, but this year it helped me get through the grief of losing my mother in August. I was also suffering from anxiety, panic attacks and post-traumatic stress.
"I found that the running every day helped save me so I decided to start park running five to 10 kilometres every day for daily exercise, which has helped my mental health, physical fitness and wellbeing so much. It also helps me manage my type 1 diabetes.
"I have been park-running at Cuerden Valley park run since its inaugural event in August 2013, but due to the pandemic park runs around the world are closed.
"Prior to this, I had achieved 214 park runs at 17 different events (and volunteered 37 times. I was hoping to achieve my milestone 250th park run and 50th volunteer by end of 2020, but then our world changed but I am fortunate to have Cuerden Valley Park at my doorstep.
"After running 50 5K park runs in 50 days for my own mental health, I realised that I hit a milestone and that I should do something positive from all my effort, so I set up a JustGiving page for the charity Shelter.
"I've raised over £500 so far, and have also helped support local food banks, a local cat sanctuary and Milly's Smiles through my running with my club, Red Rose Road Runners."
To support Ramona's efforts visit www.justgiving.com/fundraising/ramona-mulligan13