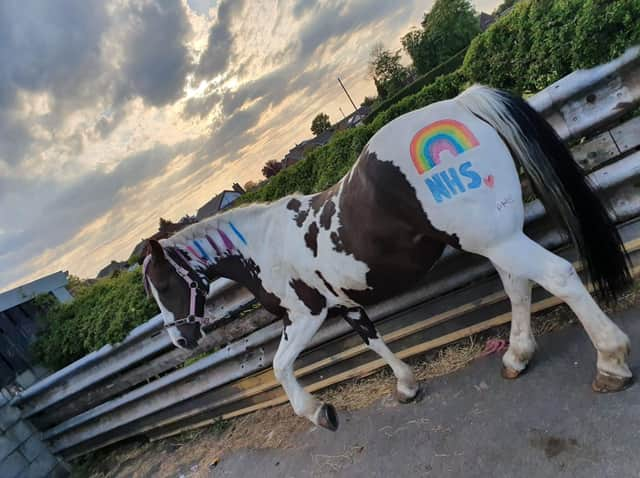 The horses are painted different colours to thank the NHS
Chantel Morgan, owner of Park Hair Room salon on Chapel Street, thought of the idea to help brighten up the lockdown spirits after the restrictions closed her business.
Along with sister Shenice, the hairdressing pair took part in an online course in horse grooming and have temporarily renamed their business Park Hair Grooms.
"We had been asked by some of our customers to shave some patterns on their horses for upcoming shows, but these have been cancelled because of lockdown," said Chantel, 36.
A colourful rainbow being painted on one of the horses.
"It's been frustrating and heartbreaking closing the doors to the salon, so I wanted to think of ways we could keep busy and came across the clipping course.
"Before we knew it, we were painting rainbows and patterns on the ponies. All the horse shows and events have been cancelled so people just wanted their horses to have a bit of colour."
Sister Shenice and her husband own a stables in Much Hoole, with Chantel having been around horses all her life.
After people began noticing the colourful horses whilst grazing, including rainbows and messages thanking the NHS, Chantel said her small business venture has started to gain interest.
Paw prints and the NHS symbol painted on the back of a horse.
Love hearts and colourful braids can be seen in the photos, using coconut oil and food colourant to harmlessly add colour and fun to the local fields in lockdown.
"People are now calling me asking when we are free to decorate their horses for them," she said.
"There's so much negativity at the minute and we don't know when things will go back to normal. It's completely harmless to the horses and brings happiness to people.
"Through sharing pictures and people noticing the horses, one thing led to another. Kids have loved seeing them on walks and it keeps us busy doing something we love until my salon can re-open."