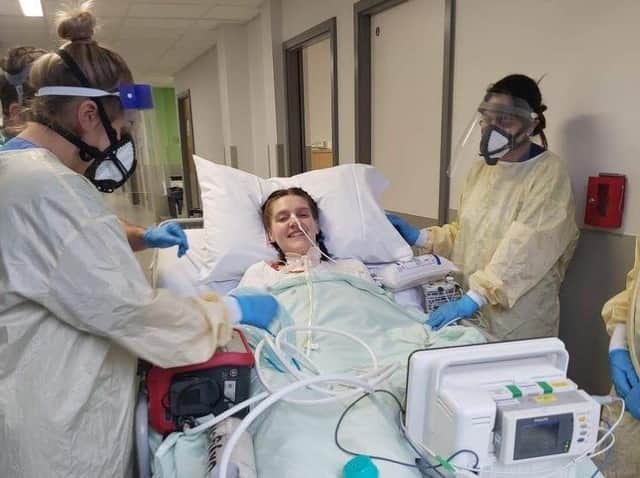 Jess Cook at Royal Preston Hospital
Nursing assistant Jess Cook, 23, of Fenton Road, Blackpool would normally be dedicating her time to caring for others at Blackpool Victoria Hospital.
But more than three weeks after seemingly recovering from Covid over Christmas, she fell ill at home on January 23 and experienced a terrifying loss of sensation in her arms.
Jess was rushed to Royal Preston Hospital where she was diagnosed with suffering a spinal stroke, caused by a blood clot in her spine - a result of the Covid-19 infection she appeared to have recovered from.
Jess Cook outside Royal Preston Hospital with partner Jayson Drake and their son Oscar
After spending two weeks in an induced coma during which time she nearly died, Jess is now on the road to recovery but she still needs hospital care and is expected to remain in the Preston's neurological rehabilitation unit for some months yet.
Now the mum-of-one, who lives with partner Jayson Drake, 24, and their three year old son, Oscar, wants to give something back to the staff who have cared for her so well.
She is planning an online fundraiser to raise funds for the rehab garden at Royal Preston Hospital and has set up a Justgiving page.
Jess, who grew up in Morecambe, said:"The staff at Preston have been unbelievable, they definitely saved my life, one hundred per cent.
"it was a really scary experience, I suffered a paralysis and they told me a lot of patients don't recover from that.
"At one point, when I was in the coma, I needed 100 per cent assistance with oxygen because I couldn't breathe for myself.
"All this was caused by Covid and I want people to know how serious it can be, some people still don't believe it is a dangerous illness but it is.
"I also want to raise awareness about spinal strokes - only two percent of strokes affect the spine but it can be a devastating illness and I would like to see more information out there.
"I am staying positive and I want to raise funds for the memorial garden, just to help other patients and say thanks to the incredible staff here."
Jess hopes her fundraiser can have the double impact of raising funds for the garden and raise awareness of spinal strokes.
Over the first 15 days in May, Jess will be fundraising to raise awareness of spinal strokes.
May is stroke awareness month and Spinal Injury Day is on May 15.
Jess's plan is to have 15 different hairstyles for 15 days from May 1 with the help from the nurses, as she has limited use of her shoulders/arms, and to relay the images online.