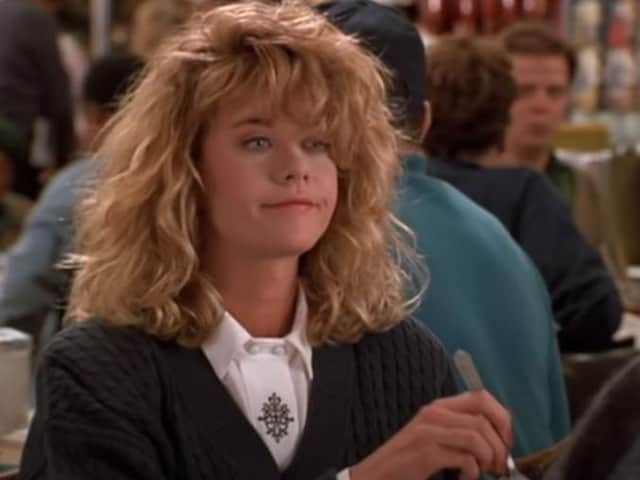 Meg Ryan in When Harry Met Sally
Not only instantly recognisable, it transcends the film itself and spawned a new saying which, to this day, is spoken by people who have and may never see the movie which made the words which just came out of their mouths so notorious.
Meg Ryan. Billy Crystal. In a diner. The noise; her hair. The mouthful of whipped cream.
And then… "I'll have what she's having."
Classic films are like tourist attractions in your home city: they're almost *too* obvious a choice. Cliched. But they're the classics for a reason; because they say and do something very special in a very special way. They capture something elusive, so actively not seeing them seems daft.
There's genius in film. In a world obsessed by the short and the sharp, they're all about the journey. Yet, in a marketplace increasingly dominated by series whose sprawling character arcs can traverse years, they have to offer the same narrative satisfaction in mere hours.
They have to take you somewhere exciting without incurring any notion of the dreaded 'are we there yet?'
There has to be delicate Swiss precision in a film's subtlety so as not to be crass and obvious. But there also has to be an element of the cookie-cutter blank canvas to allow quite literally hundreds of millions of people to paint in their own resonance, as if what they just watched really was just for them.
There's so much balance in films done right.
It's a horribly 21st century, first-world thing to *have* to compel yourself to do, but I've decided to watch the classics.
Loads of people say they like films, but then find endless excuses not to watch them, instead watching Friends for the fifth time. And while there's a more than welcome place for predictable TV nostalgia, it comes with a slight feeling of missing out.
So, as much as one can 'make an effort' to slob on a sofa and subject themselves to two hours of world-class filmography every so often, an effort is indeed being made. Hence the When Harry Met Sally reference (what a film).
To keep everything fresh, the list of classics (Citizen Kane) will be sprinkled with the odd quirky cult genre-definer (Ferris Bueller's Day Off), modern-day leviathan Oscar-hoovers (Marriage Story), and - to indulge the nostalgia - stuff always worth another watch (Inglorious Basterds).
It's going well. Last week was The Breakfast Club. Judd Nelson's timeless "Ey, smoke up, Johnny!" is still fresh in the memory. The classics are classics for a reason.