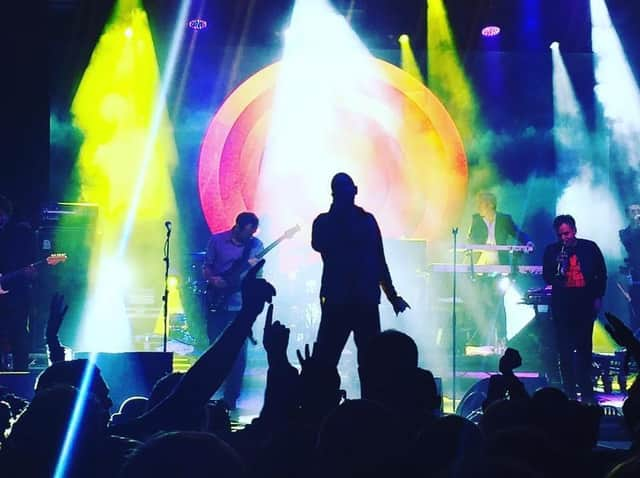 James at Beatherder festival. Picture: Nicola Adam for JPI Media
Beatherder, in Lancashire's bucolic Ribble Valley, was the first 'proper' festival I had attended for quite some time with the exception of the Lytham Festival where one tends to drink Pimms and take a nice comfy picnic blanket, folding chair and M&S picnic.
Every nightmare you tend to recall camping at a music festival came true.
The rains came and deluged perfectly nice grassy fields creating muddy swamps designed to engulf sensible wellies and make sure a 25m walk took 30 minutes - and if you dropped your phone it was gone forever.
It didn't JUST rain, it poured. This meant everything I wore down to my undercrackers was damp and unpleasant and the wind also joined in ensuring a well pegged tent needed weighting down with rocks unless you wanted it to end up in Cumbria.
Of course, the inflatable bed went down in the night, ensuring a sleepless six hours lying on random stones and the small stream which was wending its way through the tent and down the hill.
Nobody wants to be too near the loo but we were miles away so a massive night trek in the pitch black and storms took two hours, an hour of which was wandering around lost.
We thought we had struck lucky, camping in the performers field, instead being awoken from uncomfortable slumber on the half hour by maracas or a trumpet.
But apart from that , and the loos (no need to say more), we had a marvellous time.
Who needs sleep when you are stomping around half-cut with what looks like the cast of the Lord of the Rings and wearing wristbands to (in my case) get access to the bands to interview - many of whom had lost the ability to string a sentence together and just wanted snacks.
When I finally got in to interview headliners James, they asked me to sit cross-legged on the floor in their teepee and by then I'd forgotten I was a sensible almost middle-aged editor - though thanks to the band member who helped me back up.
Never too old and I can't wait for them to come back.