Being wrong never felt to good… | Jack Marshall's column
Being wrong is something we've all experienced. Each and every one of us has lived through that momentary jolt, that skipped-beat brain-pause, when your body simply has to stall as you come to terms with being completely and utterly wrong. It's a humbling ordeal, but it's how one chooses to cope which is key: double down or learn and evolve.
Watch more of our videos on Shots! 
and live on Freeview channel 276
Visit Shots! now
In late November last year, I endured the whole-body buffer which comes with slowly realising you're powerfully wrong, and it came after I was confidently and ignorantly dismissing the concept of hot water bottles. No one uses hot water bottles, I announced loudly. They're from a bygone era, like doilies or affordable housing. Smug, I looked around.
Everyone else in the room was faintly dumbfounded. Of course hot water bottles are still a thing, loads of people use them - we all use them regularly, they said. Face frozen like a slack-jawed idiot mask, my brain stuttered, stalled, and spluttered. Wait, what. Hot water bottles are a thing? My portion of humble pie awaiting me, I set about winding my neck in.
Which is a long-winded way of announcing that I am now a complete hot water bottle convert. As soon as the mercury dips, my trusty HWB is dusted off, a humble rubbery shield in the cold-snap battle against the criminal energy company wolves at my door, bloodthirsty in their heinous profiteering. God, I was wrong, so very very wrong.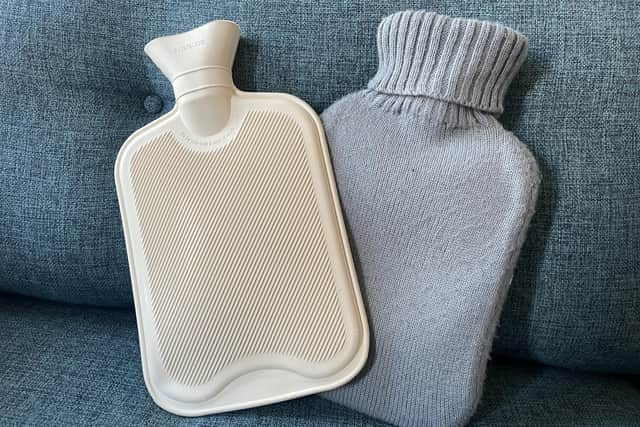 I'm typing this during the ripple of snow we had last week, a thick wave of blizzards and powdery snow-drifts which swept through just as the odd songbird's call had lulled us into believing Spring was here. My HWB is perched on my lap, warm and fat as a housecat. At night, temperatures reportedly hit -6°C. I wouldn't know.
Boiler turned right down, nary a drip of hot water flowing through my home's veins, every radiator in the house shut off and chilly to the touch, I was nevertheless as lava-toasty as a Maccies apple pie thanks to my HWB. Every square foot of all the surfaces in each room is ice-cold, but the atmosphere under my duvet is positively tropical.
Being wrong never felt better.