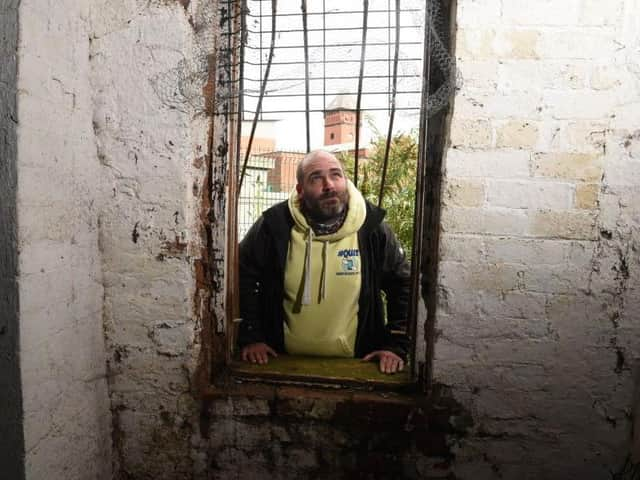 Richard has big plans for the derelict mill
Bought by Richard Porter in 2018, he has now developed exciting plans to transform the grade II listed building into a multi-purpose community centre used primarily to help disadvantaged people in Preston.
The community project will see the old mill, that has an adjoining garage, apply for funding from the Heritage fund to see it restored and developed into a 'blank canvas' for local organisations to use.
Architects have begun designing the space inside the mill and will submit plans for the future
Richard said: "We will be having the head office for the 'Here for Humanity' group that has food donated to them from hospitality businesses in Preston. So far, the garage is being funded through donations of time and people helping out.
"Once we have the charity installed in the garage, we can apply for funds to continue developing the building which will be run by a cooperative of people between different charities, UCLan and council representatives.
"I have loved the building for many years and thought it was amazing so I went to auction and bought it. It is one hell of a project but I am excited to let charities use it so the mill is put to good use again by giving back to the community."
Plans have been submitted by an architect for a two story development in the garage space, offering storage for donated food packages and an office and conference space for charities to utilise.
Over the next 12 months, the food distribution hub will be the first development to take place, allowing the Ashton community 'Here for Humanity' group to operate from one central location.
Chris Murray, founder of the organisation said: "We are now helping 120 families a week, with up to 500 food packages and shopping bags being delivered. We are currently using other people's community buildings and it can be difficult to manage all our donations.
"I reached out to Richard and we hit it off straight away and really liked eachother's ideas for the mill. We will use the downstairs area for food storage and above it will be our first office. We currently use an undisclosed shop in Preston to store thousands of pounds of dry food so need somewhere to keep all our donations.
"At the minute to have a central location like the mill would be amazing. We have had our first board room and secure office designed by an architect who donated his time. The idea is to get people into the garage so they fall in love with the mill again."
Currently, the 'Here for Humanity' group run food banks from Tanterton and Plungington, as well as hot food hubs serving hot food to the homeless and vulnerable.
The Post will continue following developments made to the mill, on Craggs Row, as they develop, with other charities such as Calm, The Tribal Project and Let it Grow hoping to utilise the space indoors and develop a community garden.
Owner Richard added: "I just want to create a space for everyone that is based upon love and not hatred. We want to bring it into use for the community as it is much better being used for good than to be sat empty."