Dog confined to a tiny crate in a house in Colne before she was rescued by RSPCA is looking for a new home
The friendly nine-year-old Staffie and a number of other dogs were living in crates in unsuitable conditions in a house in Colne and were removed by RSPCA officers over concerns for their welfare. 
Watch more of our videos on Shots! 
and live on Freeview channel 276
Visit Shots! now
A dog who was going round and round in circles confined in a tiny crate before she was rescued is now enjoying her freedom - but has yet to receive any interest from potential adopters. 
Staffordshire bull terrier Tess has spent 16 months being looked after by the RSPCA after she was found in a property in Lancashire in June 2022.  
Kieran Hands and April Pearce (both 32) were given 18-week prison sentences - suspended for two years - by Blackburn Magistrates Court after the RSPCA found 25 animals living in "shocking" conditions at their Calder Street house, with dog faeces on the walls.
The friendly nine-year-old Staffie and a number of other dogs were living in crates in unsuitable conditions in a house in Colne and were removed by RSPCA officers over concerns for their welfare.  One small room contained a dozen dogs, with eight living in wire cages with no bedding, food, or water. One particularly distressed dog, a tan and white bull type called Tank, was panting and constantly spinning around because of the cramped conditions.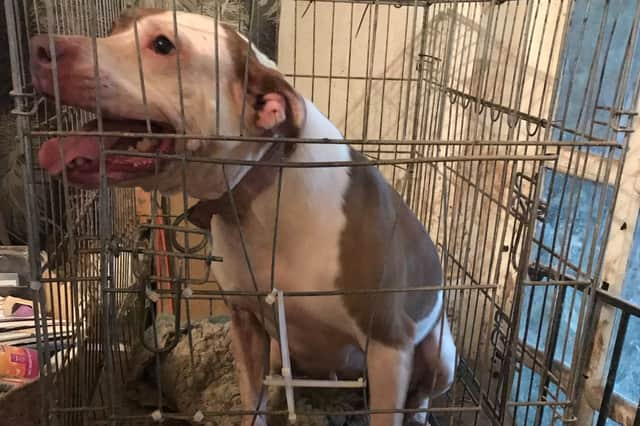 A bearded dragon was living in a vivarium on a kitchen counter, and a large Malamute crossbreed called Tazz was confined behind a gate. He had heavily matted, yellow fur and smelt "awful", according to the inspector.
Two cats were found with skin issues, along with seven pet rats. A terrapin was living in a bath, which had water but no dry resting area, heat, or UV.
An empty bottle of First Strike K9 spray was found and when the inspector picked it up all the dogs stopped barking. The couple said they used the sprays to keep them quiet.
The vet said the couple had failed to meet their needs by not seeking veterinary advice, resulting in avoidable "suffering" for eight pets.
One dog was put to sleep due to severe medical issues but many of the animals have been rehomed.
The dogs were cared for at various RSPCA rehoming centres and many of them have since been adopted.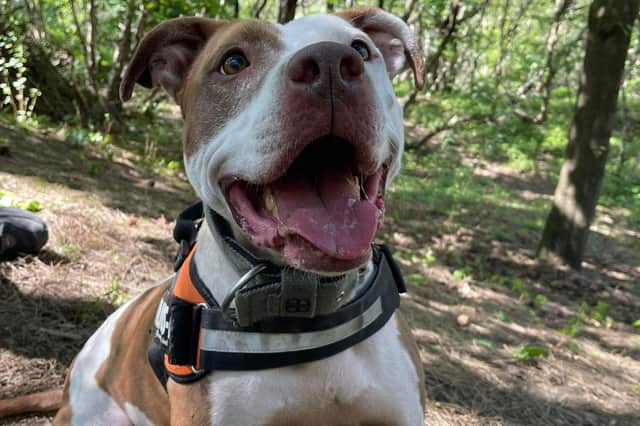 Because of her background, Tess has needed ongoing support and was only ready to start looking for a new home this September. But sadly she hasn't received a single application since, and staff at the animal centre in New Cut Lane in Southport are baffled as to why she's received so little interest.
Her story is being highlighted as part of the RSPCA's month-long Adoptober rehoming campaign which aims to shine a light on the many animals like her who are still waiting for their forever home.
Sophie Hubble, from the Southport, Ormskirk & District branch, said: "Tess had been living in a very small crate in wholly unsuitable conditions and her mental and physical health had suffered as a result. But she's made tremendous progress since, and despite what she's been through she's a really friendly girl who is full of beans and really enjoys human company and meeting new people. 
"She also loves toys - especially her tennis ball - and she'd be quite happy playing throw and fetch with you all day.
"It's been a long road to recovery for Tess and she's become a firm favourite with all the staff and volunteers who really look forward to taking her out for a walk or just having a little cuddle. We think her age is possibly putting people off, but we'd urge people to look beyond that as she's a dog who still has so much love to give. She's really blossomed and deserves to be in a loving home of her own - she'll make a wonderful family pet."                                                                             
Tess is a quick learner and knows basic commands but she'd benefit from positive reward-based training which is something her new owners will need to continue to support her with. She also has a minor dry skin condition which can make her feel itchy from time to time, but this is improving with medication and is something that will be discussed with potential adopters. 
Hands and Pearce, admitted nine animal welfare offences and were given a two-year community order with 25 RAR days and must pay costs of £600 and a £154 victim surcharge.