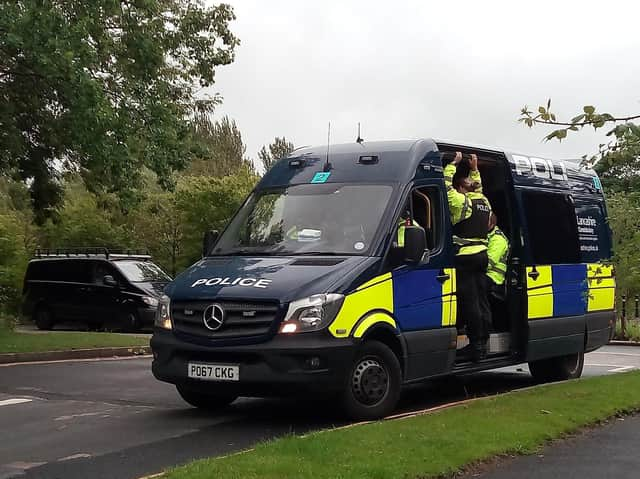 Police at Wyre Estuary Country Park
The 18-year-old from Thornton was arrested in connection with the organisation of an illegal rave in the Blackpool area, police said.
Patrols have been stepped up tonight with the intention of putting a stop to any such events.
Police officers and rangers from Wyre Council gathered at Wyre Estuary Country Park in Stanah amid rumours that one such party was planned there. Other teams remain on standby across the Fylde coast.
Police at Wyre Estuary Country Park
Superintendent Damian Kitchen said: "We have a dedicated policing operation in place, which will see an increased police presence in the area and our intention is to ensure that no event goes ahead.
"We will have extra patrols monitoring routes across the county and at key locations. If we see people on foot or in a car travelling towards any event, we have powers available - which we are ready to use - to turn them away no matter how far they have come.
"Similar events across the region have already proved to be unregulated and unsafe, with none of the facilities or security people would expect at a legal festival or event. There is an increased risk to the health and safety of anyone attending and those involved in their organisation risk prosecution."
Outdoor gatherings of more than six people are currently forbidden by the Government's lockdown rules.
Last week a man died of a suspected drug overdose at a 'quarantine rave' at Daisy Nook Country Park in Oldham, which was attended by around 4,000 people. A separate rave at Carrington, which attracted around 2,000 people, resulted in three stabbings and a rape.