Punch Bowl: Court dishes out £69,075 fine after Grade II-listed pub linked to highwayman Dick Turpin was illegally demolished
Five people found guilty of illegally demolishing one of Lancashire's most historic pubs have been fined a total of £69,075 – and it must be rebuilt within a year.
Watch more of our videos on Shots! 
and live on Freeview channel 276
Visit Shots! now
Andrew Donelan, 61, Nicola Donelan, 59, and Rebecca Donelan, 29, all of Carr Hall, Whalley New Road, Wilpshire; David Cotterell, 58, of Percliff Way, Philips Road, Blackburn; and Brian Ingleby, 70, were found guilty after a trial last year of unlawfully demolising the Punch Bowl in Longridge Road, Hurst Green, in June 2021.
The Donelans are connected to Donelan Trading Ltd, which bought the pub site in 2015, and Brian Ingleby and David Cotterell are directors of Percliff Plant and Haulage.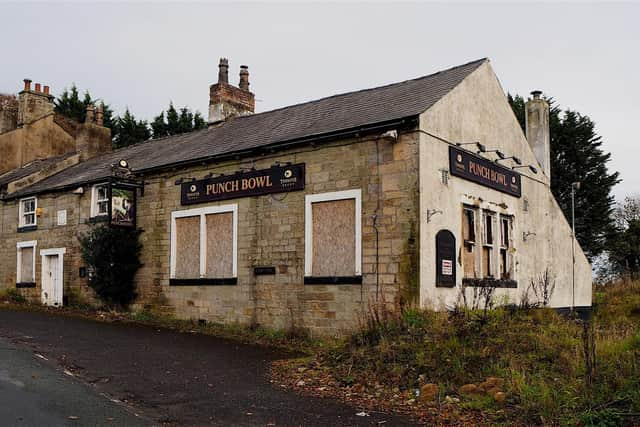 All five were found guilty of executing the demolition of the building, while Andrew Donelan, Nicola Donelan, Cotterell and Ingleby were charged with failing to notify the local authority of the intended demolition.
Sentencing
At Blackburn Magistrates' Court yesterday (March 8), Donelan Trading Ltd was fined £12,000, handed a £1,200 court surcharge and ordered to pay £20,000 towards costs. A total of £33,200, according to the Local Democracy Reporting Service.Andrew Donelan, as an individual person, received a £2,000 fine, a £200 surcharge and told to pay £2,000 towards costs.Nicola Donelan was given a £1,000 fine, a £100 surcharge and ordered to pay £1,000 costs.Rebecca Donelan received a lower £200 fine, a £25 surcharge and told to pay £250 towards costs.
Purcliff Ltd was fined £5,600, had a £560 surcharge and told to pay £20,000 towards costs.Brian Ingleby was fined £1,000, given a £100 surcharge and charged £1,000.David John Cotterell was fined £400, given a £40 surcharge and has to pay £400 towards costs.The businesses were told to pay fines, surcharges and costs soon while the individuals were given slightly longer periods to repay.None of them spoke in court.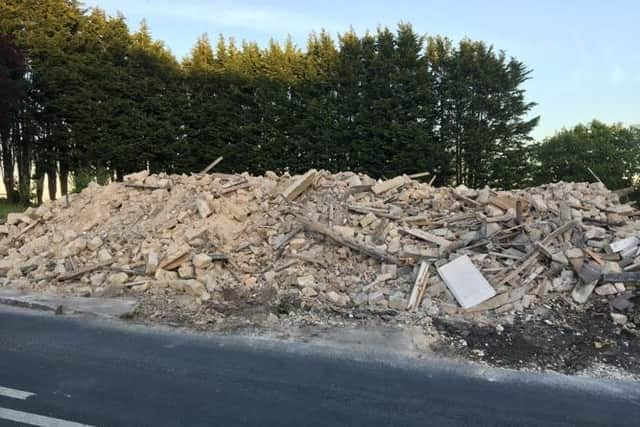 Why did they demolish it?
In a trial last year, David Lawson, defending, told the court the owners were worried the building had become unsafe over time. He said they believed its state had got worse over the years and it was broken into and targeted by arsonists.He also said the defendants alleged Ribble Valley Council had not acted properly or fast enough, and the group became frustrated with apparent delays.However, Killian Garvey, representing Ribble Valley Council, said borough planning staff had communicated professionally with the group and made efforts to engage. But the group ignored various warnings, including from Historic England, and demolished the pub without permission. They also failed to have a proper road closure.
Appeal lost over rebuilding the pub
Simultaneously, an appeal by the owners of the Punch Bowl against an enforcement notice issued by Ribble Valley Borough Council compelling them to rebuild the building has been lost.
In April 2022, the council issued an enforcement order demanding the owner rebuild the historic property, parts of which dated back to the early 18th century. In turn an appeal has been made against the enforcement order.
The enforcement notice has been upheld by the Planning Inspectorate, which has said the building should be restored to its former state, including its external appearance and internal arrangements and floor plans and in the location shown on the original plans.
The inspectorate also made a full award of the council's costs against the owners of the Punch Bowl Inn. The amount has not been made public.
Arguing against having to restore the building, Andrew Donelan told the planning inspector it woiuld not be possible because "all the materials were destroyed and could not be reused".
The inspector A A Phillips refutes this, saying: "Clearly, this is incorrect because at my site inspection I observed very large piles of stonework from the demolition on site. Some of this material may have been compromised through the careless demolition process, but there is insufficient evidence before me to conclude that this is actually the case.
"The material has not been destroyed and some of it could be reused in the required restoration of the building. The photographic evidence to which my attention has been drawn is of little assistance in informing me of the extent of reusable material on site."
The original building materials from the rubble must be used or other materials judged suitable by Ribble Valley Council.
History of the pub
Highwaymen Dick Turpin and Ned King were reported to have stayed at the site and the ghost of 'Old Ned' was reputed to roam the pub, which dates back to 1793.
The property has been vacant since 2012 and has been the subject of numerous planning applications. In 2018 permission was granted for the building to be converted into five holiday lets and a cafe.
In March 2022, the council refused a reapplication by Donelan Trading Ltd for the 15 unit holiday park.
Additional reporting by Robbie MacDonald, Local Democracy Reporter