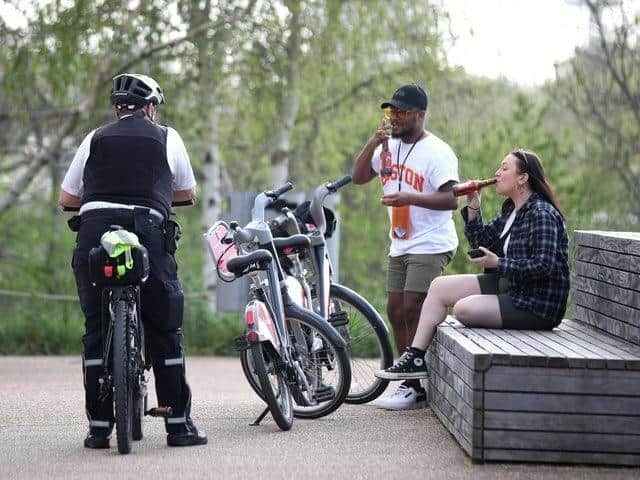 The nearly doubling of lockdown fines - from 60 pound to 100 pound - comes as the Government relaxes restrictions from Wednesday, May 13
Fines are being increased by 67% - from £60 to £100 - as the Government moves towards easing lockdown restrictions from Wednesday (May 13).
It comes amid confusion over the new lockdown guidance issued by Prime Minister Boris Johnson in his address to the nation yesterday evening (Sunday, May 10).
Police forces are already warning that the new guidance - which allows unlimited exercise outdoors and lifts restrictions on car journeys - risks further confusion for officers and the public.
Lockdown fines will rise to 100 pound in England from Wednesday, May 13
Lancashire Police drew criticism during the first phase of lockdown, after it was revealed that it had handed out significantly more fines than any other force in the UK.
Responding to the Government announcement, a spokesman for the force said: "We are working through the detail but as more details become clear, working closely with the College of Policing and the Home Office, we will review our current guidance, which supports officers and staff in policing the public health regulations.
"The core British principle of policing by consent will continue to be at the heart of our approach."
But the Police Federation of England and Wales, the body that represents rank-and-file officers, has warned that the Prime Minister's relaxed lockdown guidance risks being a set of "loose rules that are left open to interpretation".
It said the tougher fines, in addition to the new guidance, will make it difficult for officers to implement.
John Apter, the national chairman of the Police Federation of England and Wales, said: "What we need from the Prime Minister and the Government now is clear and unambiguous messaging and guidance, explaining what exactly is expected of the public, so that my colleagues can do their level best to police it.
"Police officers will continue to do their best, but their work must be based on crystal clear guidance, not loose rules that are left open to interpretation - because that will be grossly unfair on officers whose job is already challenging."
The first fine someone receives if police believe they are flouting restrictions will be lowered from £100 to £50 if paid within 14 days, according to the Home Office.
But fines will double for each repeat offence, up to a maximum of £3,200.
Existing legislation known as the Health Protection (Coronavirus, Restrictions) (England) Regulations 2020 will be updated from Wednesday to reflect the changes coming into force.
It is not yet clear if the same changes to fines will be adopted in Wales, Scotland and Northern Ireland.
Mr Apter added that Boris Johnson's statement came after a week of "mixed messages" from Government.
He said: "If the message of what is expected of the public is not clear, then it will make the job of policing this legislation almost impossible."
Lancashire Police has been approached for comment.