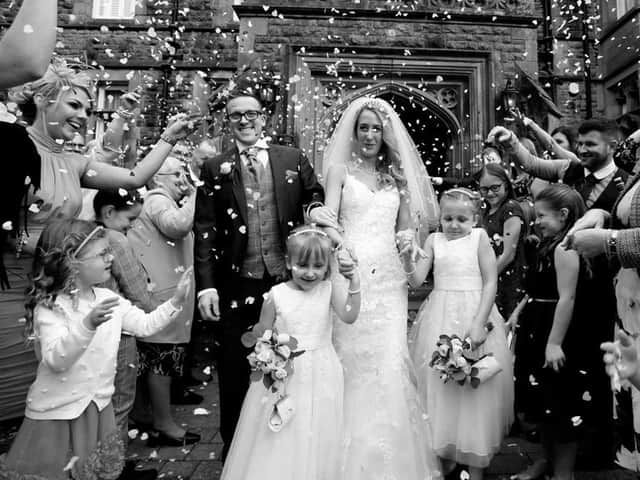 Martin and Rachel Neave, with their daughters and guests. Photo by Adam Lupton.
Rachel (nee Clegg) and Martin Neave were married on March 21 at Lancaster Castle, celebrating later at The Villa in Levens.
The couple, who live in Ashton Drive, had previously booked their wedding date in Mexico for April 12 2020, but were left having to pick up the pieces when Thomas Cook went into administration.
Rachel, 33, who owns salon Rachel Anne in Marketgate Shopping Centre, said they planned a new wedding locally in just three months, and then coronavirus struck.
Adam and Rachel Neave on their wedding day. Photo by Adam Lupton.
She said: "Our first wedding was booked for Riviera Maya Mexico on April 12 2020 but went under with Thomas Cook.
"This resulted in a family still having to go to Mexico as they didn't book with Thomas Cook.
"We decided to plan a new wedding locally and had it booked for March 21.
"Watching the news the week before we were unsure if Boris was going to cancel it.
"On Friday March 20, Boris announced that all restaurants and bars were to close at midnight that night.
"We rang our venue to see if they would be cancelling us but they told us we could go ahead as it's a hotel.
"Then at 9pm Lancaster Castle rang to tell us no guest would be allowed in.
"By this time I just broke down.
"We decided not to tell any of guests but the ushers and bridesmaids would explain when the guests started to arrive."
On the day, Rachel said she was so overwhelmed she couldn't stop crying.
"My friends Carly and Amanda rang around Friday night and a local restaurant came down with beer, prosecco, juice, glasses and crisps to give to the guests while they waited," she said.
"The ceremony still was very special as they allowed in my mum and dad, and our two daughters Frankie and Stevie who gave us our rings.
"When we finally said 'I do', everyone cheered for us from outside.
"We all then went to The Villa at Levens and had one big party as we all knew it was the last time we were all going to see each other."
The couple were due to fly out to Mexico on March 30 but instead are spending their honeymoon at home.
Rachel and Martin, 42, who works for Electricity North West, said they would like to thank Rachel's parents Sue and Geoff Clegg, from Warton, Lancaster Castle, The Villa at Levens, photographer Adam Lupton, Reece at PC Roadshows, and pianist Fred Bingley for all their help, as well as Carly Boak, Amanda Leeming, Layton Young and Garth Hammond for looking after all the guests outside Lancaster Castle.