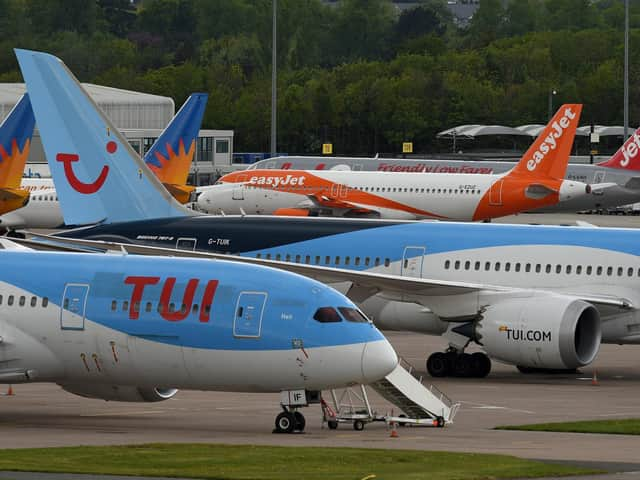 All a bit mad: Aeroplanes. Photo by Oli Scarff AFP via Getty Images
During the pandemic, we've all become amateur virologists in one way or another. Everything from masks and hydroxychloroquine to the delicate economic balance between lockdown restrictions and financial aid has been endlessly opined upon by all and sundry.
For some experts, it was just all *too much* right off the bat: this whole global pandemic thing is a hoax, they said, before going outside to attack a 5G mast.
But when it comes to the nitty-gritty of things like air recycling rates on mainstream airlines, there's a selfish angle to my internet-based virological pursuits: I'm going on a plane.
It feels a bit mad. A trip to Aldi or the gym at the minute is about as wild and wonderful as it gets, let alone boarding a tin can full of body odour and strangers' farts for an eight-hour joy ride.
But my mother and stepdad live abroad in a country with which the UK shares a so-called 'air bridge'. And it's been a year since we've all seen each other, so…
Organising to see them can be hard: they're both teachers and so have rigid holiday times, which makes bobbing out for a visit at the drop of a hat a little tricky, especially when flights cost about a grand.
So, what we usually do is coordinate summer holidays in the same place, making for some very exotic reunions. We once went on a run where the last four places where we'd all seen one another were Budva, Vienna, Barcelona, and Dubrovnik. Which makes us sound laughably fancy when, in reality, we're basically just Brits abroad.
But, whilst I've been asymptomatic and haven't tested positive for so much as a cold, it's still very weird.
For one thing, air travel feels like something from a million years ago (also known as 'February'). Rumour has it this 'February' time was an era before everyone felt the compulsion to perform a mental checklist of the surfaces they'd recently brushed before giving their hands a biohazard cleansing anyway. History is fascinating.
And so into the world of the airport - a place designed to be busy; to corral queues of strangers in tight-knit zig-zags before spitting them out into a rat-race neon maze of duty-free Toblerones, Ray-Bans, and perfume.
Thanks for reading. If you value what we do and are able to support us, a digital subscription is just £1 per month for the first two months. Try us today by clicking here