Lancashire Great British Menu star creates the ultimate Michelin starred 'Warburtons Toastie' - and here's how to recreate it at home
Michelin-stared chef Lisa Goodwin-Allen has unviled her guilty pleasure – the Warburton's Toastie – and it's available to try right now.
Watch more of our videos on Shots! 
and live on Freeview channel 276
Visit Shots! now
Known for her nostalgic dishes and seasonal flavour combinations, the Northcote executive chef has created a toastie inspired by her favourite comfort meal of tomatoes and cheese on toast.
This Autumn comfort food has been elevated to Michelin standards by Lisa, and features Warburtons Toastie loaf, Black Cow cheddar cheese and Tunworth cheese, plump Isle of Wight tomatoes, basil oil, tomato jelly, basil mayonnaise, finished with a tomato consommé.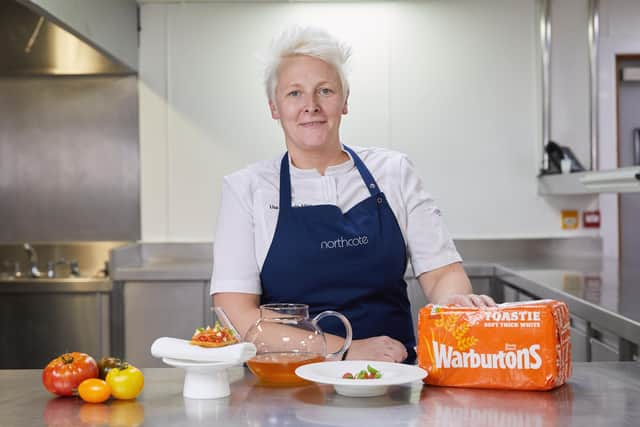 The one-of-a-kind Michelin cheese toastie will be available on Northcote's seasonal lunch menu as a starter exclusively from today, and if you can't make to the restaurant, Lisa has adapted the recipe for everyone to be able to make it at home.
She said: "The inspiration for this amazing dish came from my own favourite guilty pleasure – tinned tomatoes and cheese on Warburtons Toastie loaf! "There is nothing better when you want something comforting, quick, and delicious than a toastie and this dish is a decadent version of this great classic comfort food, elevated using the very best quality ingredients. The make at home version is equally delicious and uses ingredients anyone can get from a supermarket meaning they can elevate their own toasties with ease.'
Samuel L Jackson
The dish comes hot on the heels of the new Warburtons campaign, featuring Hollywood icon Samuel L Jackson. Celebrating Warburtons' dedication to making the best quality loaf, SLJ turns his hand to the top job at the bakery to remind people who bakes the best bread.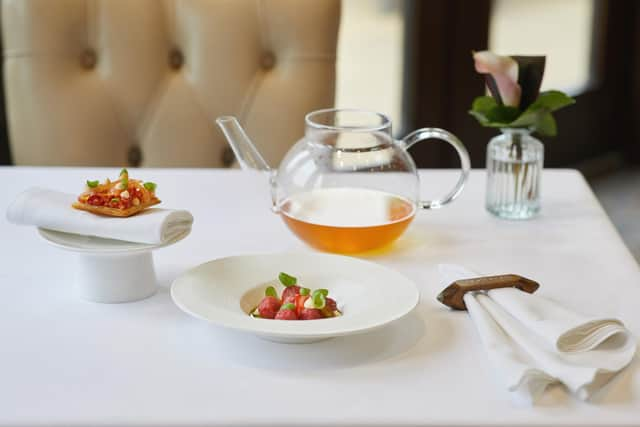 Jonathan Warburton, chairman of Warburtons, said: "We pride ourselves on making the best quality products, and what better recognition that we're doing things right than to have Britain's favourite loaf featured on a Michelin menu!
"Lisa has created a stunning dish that takes this simple British classic comfort food to a new level. I am really pleased she has created a make at home version too, so that everyone can try a little Michelin luxury from their own homes – we will most definitely be giving it a try."
How to make the Warburtons Toastie at home
Tomato Relish Ingredients:
25g Onion, finely sliced.
1 Garlic clove grated.
250g Good quality, soft, ripe plum tomatoes (chopped)
20g Olive oil
10g Tomato puree
50g Tomato juice
1/4tsp Red chilli, finely diced
1tsp Lime juice
Good pinch of salt and sugar
Method:
In a medium sized pan, heat the olive oil and add the finely sliced onion.
Season with salt and cover the pan with cling film or a lid.
Cook the onion down until it is completely soft but with no colour
Once soft, remove the lid and continue to cook on a medium heat until the onion is nicely caramelized.
Add chopped tomatoes, tomato puree, tomato juice, garlic and chili.
Ingredients for the Cheese Toastie
125g Semi Skimmed Milk
15g Egg Yolk
12g Cornflour
50g Black Cow Cheddar Cheese (Grated)
5g Tunworth Cheese (cut into to chunks)
4 slices Warburtons "Toastie" sliced bread
50g Black Cow Chedder to garnish
Method
In a small bowl whisk together the egg yolk and corn flour.
Pour the milk in to medium pan, bring to the boil, once boil pour on to the egg mix, mix well then pour back into the pan.
Cook on a medium heat stirring continuously until the mixture thickens.
Once thickened whisk in the grated cheese and Tunworth cheese.
Spoon the mix in semi spear moulds (3cm) and freeze. If you don't have spear moulds – you can use an ice cube tray and fill halfway up.
Take 1 slice of bread and brush with melted butter on one side, place the buttered side of bread on to the toastie maker, place 2 domes of frozen cheese on to the bread in each triangle then place a slice of bread on top, brush with more melted butter, close the lid.
Cook for 3-4 minutes until golden brown.
Remove then put a good spoon full of tomato compote on top, cover with more grated black cow cheddar and finish with a drizzle of olive oil and a touch of salt.