When Morecambe and Wise appealed to Post readers for jokes
Comedians plea for help for new material from Lancashire Post readers after critics panned debut television series
Friday, 11th September 2020, 3:45 pm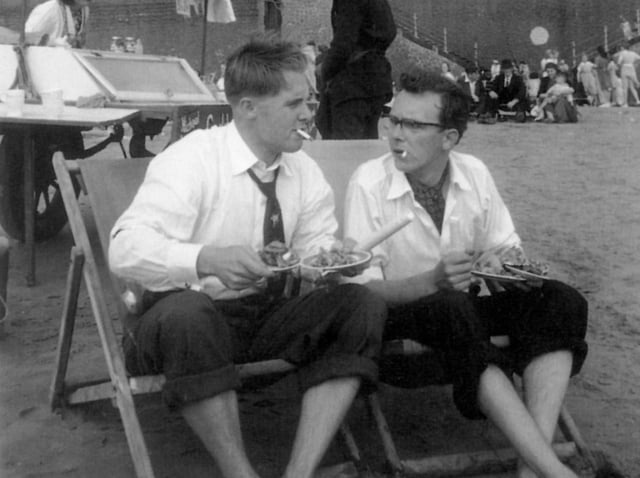 Morecambe and Wise on Blackpool beach in 1953
They regularly top polls as the nation's best loved comedy duo.
Their Christmas Day specials drew record audiences for more than a decade and they are still much loved more than three decades on.
But there was a time in the career of Morecambe and Wise when they were struggling for ideas and turned to the readers of the Lancashire Evening Post for help.
In 1953, the comedy duo made an appearance on the television show Stars in Blackpool, which lead to them being offered their first television series.
Running Wild was screened the following year and received a drubbing from the critics.
Legend has it one particular newspaper review in the Sunday People had such a negative impact on Eric Morecambe that he kept a clipping for the rest of his career.
The offending observation stated: "Definition of the Week: TV set: the box in which they buried Morecambe and Wise."
While The Evening Standard said: "After watching their Running Wild show last night I was relieved – and disappointed. Relieved because in their way they are amusing. Disappointed because they are not more so.
"Theirs is the humour of the music hall sketch – a sketch we have seen a thousand times before."
After the six episodes of the live sketch show finished their run the pair went back to the stage, vowing never again to allow anyone to have control over their material.
It was two years until they took a role on television again after they were offered a spot in the Winifred Atwell Show, a move which was heralded a success.
And it was in the same year that the funnymen launched an astonishing appeal for help with new material from readers of the Post.
In an article published on December 5, 1956, the paper's showbiz columnist Arthur Frith reported: "Comedians Morecambe and Wise want a good television idea. And they are prepared to pay £100 for it.
"All you have to do is provide them with one, and if they use it on television, the money is yours. The two quick-fire comics who star in Blackpool next summer would dearly like to make a hit on TV.
"Their first series with the BBC 'Running Wild' was most disappointing, but in the Winifred Atwell series on ITV they appeared with great success. Now they would like their own series, but want a really good idea on which they can work.
"Don't think that this appeal means they are short of engagements. They are fully booked for the next two years. Panto at the hippodrome in Dudley is their next engagement."
Alas, Firth never records whether anyone from Lancashire successfully stepped up to meet the challenge.
Despite one off appearances on television during the intervening period it was another five years before Morecambe and Wise would headline their own TV series.
Two of a Kind launched in 1961 and run until 1968 helping to catapult the twosome into stardom and British comedy folklore.
As for Firth, he moved on from the Post and later become editor of the Daily Express in the early 1980s.