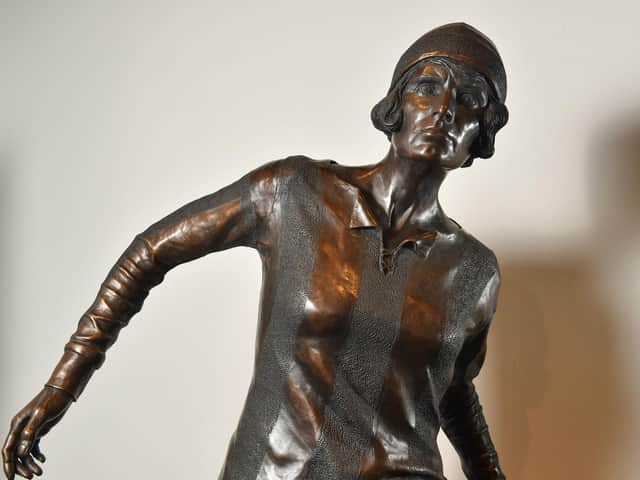 Lily Parr statue at the National Football Museum
Born in 1905, Lily Parr became one of the most significant and successful female football players of her generation.
Parr was renowned for having one of the most powerful shots in the game, wowed capacity crowds with her skills, showcased her talents overseas, influenced generations of female players and defied a Football Association ban on the game she loved.
Off the field, Parr trained as a nurse and worked in Preston's Whittingham psychiatric hospital.
But Lily made her name playing for the Dick, Kerr Ladies football club, a team made up of women working for the Dick, Kerr factory in Preston, a factory used to make munitions during the First World War.
The Dick, Kerr Ladies were the most successful and influential of the 'munitionette' football teams during this period. They played nationally and internationally, raising large amounts of money for charity.
Lily was born into a large working class family in the politically active mining community of St Helens. It is believed she shunned traditionally feminine sporting activities as a child in favour of football and rugby which she played with her brothers on wasteland.
Lily's involvement in football, like many women of her generation, was influenced by the rise of the women's game during the First World War. She began playing organised football as a teenager, first for St Helens ladies where she was spotted and asked to play for the Dick, Kerr Ladies football team where she was also offered a job.
Dick, Kerr Ladies team with Lily Parr pictured right holding a football
Lily lodged with her friend Alice Woods, who also played for the team and worked at the factory. She was 14-years-old when she started to play for Dick, Kerr Ladies as a left back, later playing left wing.
She went on to score more 900 goals throughout her football career with Dick, Kerr Ladies and later Preston Ladies. She played in a number of significant football matches including the in the match against St Helens Ladies at Everton's Goodison Park which attracted a then record crowd of 53,000, and in the first recognised international women's football match against France in 1920.
The impact and legacy of women like Lily on the development of women's football regionally, nationally and internationally is highly significant and under-represented in the traditional narrative of football history.
She played a major role raising the popularity of the women's game becoming a familiar and well-known face among the famous Dick, Kerr Ladies team and with them pioneered international women's football travelling to France, Belgium and later North America.
Dick, Kerr Ladies football team, right, line up alongside rivals from Yorkshire Ladies. Lily Parr is pictured on the centre row at the far right
Importantly Lily Parr and many other women defied the Football Association and continued to play football despite the ban in 1921. Lily's actions helped women's football survive the restrictions placed upon it.
She continued to play football until 1951 which means that for most of her football career, she was effectively banned from playing the national sport and the game she loved.
Without women like Lily, who continued to play and organise women's football during this period, it is unlikely women's football would have been able to develop and grown through the 'second -wave' of women's football from the late 1960s.
Arguably, Lily Parr influenced the generation of women that followed her and set up the Women's Football Association (WFA) in 1969. The Women's Football Association ran and organised women's football independently of the Football Association from 1969-1993.
The WFA put in place the organisational, league and competitive structures in place that allowed women's football to become the national sport it is today. In 2002, Parr became the first woman to be inducted into the National Football Museum's Hall of Fame.
In 2019 the museum unveiled a statue to her. The monument, created by sculptor Hannah Stewart, was commissioned by FA sponsor Mars and is the only statue to a female footballer in the UK.
Although the story of women's involvement in football throughout the First World War is relatively well known amongst football fans, the story of individual women and their impact is not. The National Football Museum will celebrate Lily Parr by creating a gallery to the player inside the museum. This gallery is expected to open in spring 2021
Her talent, persistence and endeavour allowed her to challenge the stereotypes surrounding women's role in society. She also challenged stereotypes in her personal life. Although not openly gay, Lily lived with her female partner up to her death in 1978 and has since her death become an icon for some in the LGBT community.
Lily also worked as a nurse throughout her life including during her football career. As working women and sportsperson her story will be an inspiration to many, particularly young women and girls.
If you have any information or can help tell Lily Parr's story contact Belinda Scarlett, curator of Women's Football at the National Football Museum, via [email protected]